Manufacturer of Carbide Burr Set
Leading manufacturer of carbide burr set over 11 years.
41 sets of advanced CNC machine promise fast delivery
Brazing with silver material upon USA technology
Quality guarantee policy ensures your business risk-free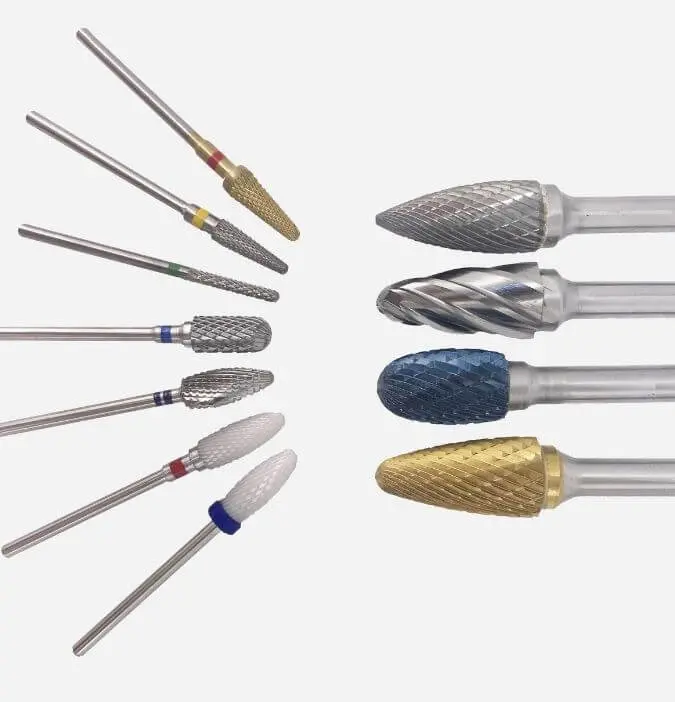 Syndent Carbide Burr Set
We provide the most popular rotary burr set in the market.
Syndent can offers you the carbide burr set according to your applications on the different positions and materials. You can complete all your jobs in one-stop.
Also, our strict quality checking system promises you to get the best performance with every carbide burr set.
Syndent manufactures carbide burr set over the last 11 years.
Why Syndent Carbide Burr Set
Syndent carbide burr set, also named tungsten burr set, is produced with laboratory-certified tungsten carbide material. We design the tungsten carbide burr set professionally to simplify your working process. Either you like to remove any corners, or plain surface, Syndent carbide bur set can meet whatever you need.
Syndent burr bit set is used across many industries for deburring, grinding, shaping. And this tungsten burr set is best for stock removal on cast iron, steel iron, aluminum, copper, and other hard materials like wood and stone. You can also apply Syndent carbide bur set on weld slag removal with ease. Syndent die grinder burr set is most suitable for the engraving or sculpting operations on hard materials. If you like to have very aggressive removal, you need to choose dual cut carbide burr set.
Manufacturing
Testing
Catalog
Send Inquiry
Shipping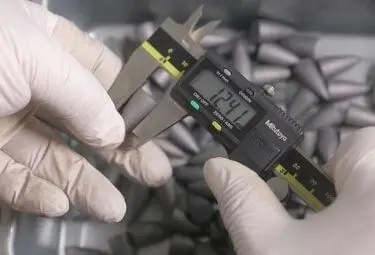 Material
Syndent will check the raw material specifications of carbide burr set before production.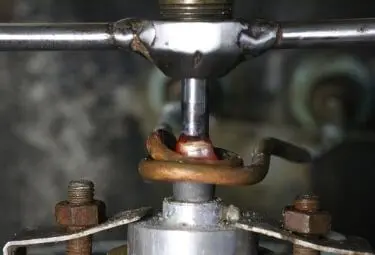 Brazing
Syndent automatically brazes carbide burr set with silver in a low temperature.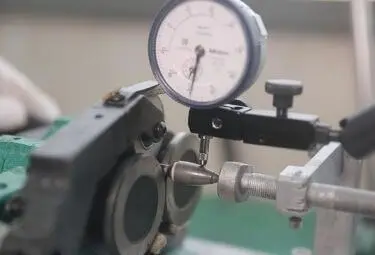 Balancing
We must make the carbide burr set jumping test after brazing. The tolerance is less than 0.1mm
Bending
Syndent examines the hardness of carbide burr set shank after brazing and tests the bending strength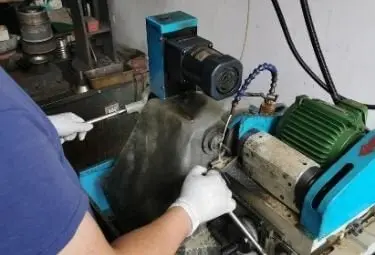 Shaping
Solid carbide burr set needs a shaping process from the carbide rod materials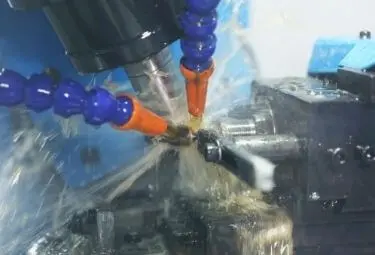 Toothing
Syndent CNC grinds the carbide burr set teeth after the tests approved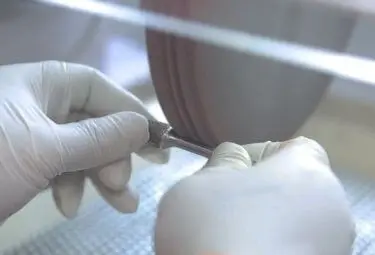 Polishing
Syndent polishes the carbide burr set shaft, and its brazing position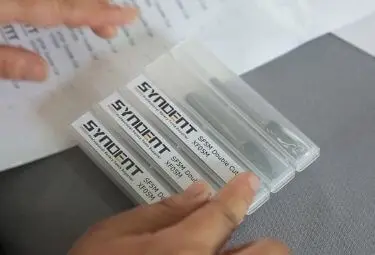 Packaging
Syndent makes your logo on the carbide burr set, and stick your own label on the case.
Your Best Supplier of Carbide Burr Set
Syndent carbide burr set consists of 1/4(6mm) carbide burr set, 1/8(3mm) carbide burr set, 3/32(2.35mm) shank carbide burr set, and long shank carbide burr set.
We manufacture carbide burr set with the best tungsten carbide materials on the advanced CNC machines. That ensures your carbide burr kit has excellent flutes and long life.
Syndent can produce 1000 carbide bur sets every day, including 1/4, 6mm, 1/8, and 3mm shank. We have a regular stock carbide burr set here in Syndent warehouse. You would have a fast delivery when your order is placed.
Syndent has been the expert in the manufacturing of tungsten carbide rotary burr set for 11 years. We sell most solid carbide burr set to Europe and America. Syndent has much experience to support you with the best carbide bur set.
Get an instant quote for Your next carbide burr set order now!
Carbide Burr Set: The Complete FAQ Guide
Industries know Syndent as a top-class Company from China that dispenses out most favored rotary files. We receive offers and furnish you with desired carbide burr set based on your applications.  The burr set applies on several positions and materials and plays a key role in completing your tasks in one-stop.
What Does Carbide Burr Set Mean?
Carbide burr set means a set of sharp cutting tools made of denser carbide. We mainly use them in deburring, cutting, polishing, shaping, and smoothing out hard and soft materials. Industries require carbide burr kits for easy and faster tasks like chamfering, cutting, shaping, etc.
An ideal tool you need when you want to fine-tune edges of complicatedly carved woodworking design.  Ideally, carbide bur set can even shave and shape ceramic for the smoothest surface. All of this requires a set of right tools so that you don't find yourself limited with tool options.
You need a good set of carbide burrs that can work out almost everything. You can start from wood and end on hardened steel without encountering difficulties. This however comes with proper maintenance and caution of the tungsten burr set.
You can discover a good tungsten carbide rotary burr set from Syndent. We produce an efficient, effective, and long-lasting tungsten carbide rotary burr set. Even though they look small, they carry impressive power. They literally offer everything you want from a cutting tool hence increasing productivity. You can only achieve precision results with a long-lasting burr bit set from Syndent.
Syndent produces carbide bur set in different sets of 4 pieces, 5 pieces, 8 pieces, 9 pieces, 10 pieces, etc. You can order 1 8 carbide burr set, 1 4 carbide burr set, 1 8 shank carbide burr set, etc.
Which Process Do We Manufacture Carbide Burr Set
Manufacturers produce burr bit set using denser cemented carbide raw materials. Syndent certifies the raw materials in its own laboratory. Syndent CNC equipment and highly qualified employees play a critical role in developing carbide burr set.
Syndent experienced employees ensure we produce burr bit set that has professional-level quality. It remains a wonderful ally for industries looking for precise and perfect results. The process includes:
Material Evaluation
Syndent always checks tungsten carbide raw materials for quality before production commences. The warehouse manager, assisted by R&D team, inspects the materials. The vigorously selected fine-grain denser materials then enter the warehouse.
Brazing
Immediately after receiving quality materials in our warehouse, we braze carbide burr set and steel together. We uniformly braze with the silver under moderate temperatures.
Balancing
After we braze materials together, Syndent carries out jump tests to our carbide burr set. The aim of jump testing is to have the tolerance level a tool requires. Syndent CNC equipment ensures we receive a precise tool tolerance level, set for 0.1mm or less.
Bending
Die grinder burr set requires applying a bend, immediately after the tool receives the correct tolerance level. This tests the hardness of the tool. We apply a pre-determined bend on the shaft.
Shaping
With enough strength assured, Syndent now shapes the die grinder burr set. CNC machine plays a great role in grinding the tool to a certain shape.
Toothing
After receiving test approval of ideal our dual cut carbide burr set, Syndent provides the tool with special cutting edges. CNC machine accurately grinds the carbide burr's head into fine and sharp flutes.
Polishing
Our tungsten carbide rotary burr set should have an attractive overall appearance after attaining relevant features. For smooth handling, we finely polish its shank as well as the brazing position.
Packaging
Our production process ends with packaging the ideal carbide burr kit appropriately in packages. This comes after ensuring no feature lacks on the tool. Syndent prepares logos, puts labels, and then appropriately arranges for shipment.
How do Industries Use Carbide Bur Set?
When you buy 10 piece carbide bur set, you receive different shapes. Each of the shapes offers incompatible functions. Made out of tough tungsten carbide, they cut, chamfer, shape, etc.
Shaping
We make carbide burr set in diverse cuts and with sharper flutes and enough power, it shapes like anything. From stone, bone, hardened steel, steel, to glass. It enables you to make shapes from all these materials easily.
Grinding
Apart from cutting and shaping, industries all over the world grind objects daily. Material grinding requires a tool with impressive power to increase productivity. Syndent tungsten burr set can make grinding convenient even with tough materials.
By nature, tungsten carbide has exceptional strength and is denser than other materials. It implies that Syndent burr bit set simply cuts tough materials without breaking. Again, we make flutes with very stunning cutting power to help you slice materials of any nature easily.
Cutting
Something you can't miss out in any industry that handles projects on metals and other materials. Material cutting plays an integral role in industries as a kick start of what you wish to do. Syndent carbide bur set makes exceptional cuts to materials into precise pieces of your choice.
Whether solid carbide bur set, 1 8 shank carbide bur set, 1 4 carbide bur set, Syndent assures classical cutting. You can't find an effective way of cutting materials than using precise cutting tool like Syndent carbide burr set.
Deburring
Another function tungsten carbide rotary burr set offers include material modification. Popularly known as deburring, material modification involves clearing small debris or particles from materials commonly called burrs. Burrs naturally occur by the effect of drilling, turning, milling, grinding, engraving, etc.
To remove burrs and bring your project to perfection, you may use Syndent carbide burr kit.
Enlarging holes
Industries can drill holes into materials like drywall, concrete, tough metals like hardened steel, cast iron, etc. They simply manage such tasks with the aid of die grinder bit set with single cut. Syndent carbide burr set with single cut digs deep and makes longer chips. Thus, besides just drilling holes, carbide burr set with single cut and right head diameter can enlarge holes too.
Spherical or ball-shaped single cut carbide burr set creates concave cuts on materials. It simply shapes and hollows out a particular area on your material. Commonly used by wood and stone carvers as well as metal engravers. Such carbide burr kit works best when used with a high-speed handpiece like die grinder.
From simple guide explained above, you can easily conclude that Syndent can furnish you with the best carbide burr sets. Tungsten carbide rotary burr set literally gives incredible numerous functions at a faster rate. It, therefore, simplifies tasks through effective and efficient functions through faster actions hence reducing workload significantly.
Which Recommended Tools Should You Use on Carbide Burr Set?
Generally, we use burr set in air tools that include die grinders, high-speed engravers, or micro motors. Others use pneumatic rotary tools, flexible shafts, pendant drills as well as hobby rotary tools such as the Dremel.
Useful note: As long as you use rotary tools on the carbide bur set, always ensure the particular handpiece runs true. If at all you aim at better results, it shouldn't wobble.
How Does Carbide Burr Set Fit Correctly in Particular Rotary Tool?
We declare carbide burr kit correctly fit if it can't wobble when in action. That implies you have to find a correct air tool which carbide burr set can fit firmly. You can never work right with a wobbling burr set in an automated tool.
Fitting your tungsten carbide rotary burr set in die grinder requires a very simple analogy. To start and accomplish your project on a good tone, your specific should fit right in a rotary tool. Insert carbide burr shaft in the chuck of your handpiece. Make the fit more tightly using a wrench so that the entire assembly doesn't move when doing your tasks.
A tool that can't fit can lead to premature wear of the cutting teeth that renders it ineffective in performance.
Useful note: Usually, manufacturers produce user manuals to guide those who have no idea how to fit correctly.
Why Do Industries Consider Using Carbide Burr Set?
Tungsten carbide burr set executes mixed functions on materials of different hardness and toughness. Manufacturing carbide burr set takes intense supervision from the first stage until we package it. First, Syndent takes a keen selection of raw materials, tungsten carbide for this case. Carbide has high density better than other materials and close to diamond in hardness.
We scrutinize denser tungsten carbide materials supplied by popular top companies. Materials supplied must provide quality assurance as a guarantee that what comes out withstands any tooling pressure. Therefore Syndent develops a valuable, brittle, and long-lasting carbide burr set with a sensational performance.
Tungsten carbide rotary burr set comes along with astounding features which help you work easy and for quicker projects. Features sharp flutes with stunning cutting ability, almost like diamond. If you buy Syndent carbide burr set, you benefit greatly from high tolerance against heat, rust, etc. We finely grind the head and then smoothly polish its shaft to produce a stainless steel-like carbide burr set. It cuts varying types of materials precisely and for longer time.
Is Tungsten Carbide Harder Than Diamond?
Not really.
Carbide is not as harder as diamond but has an exceeding hardness that almost compares to diamond. Diamond remains the hardest material you can find on earth. Tungsten has high tensile strength than any natural metal but not as strong as a diamond in terms of impact strength. Has high brittleness, known for shuttering on impact. Tungsten has a higher melting point than any other metal hence, sharpest.
Can Carbide Burr Set Cut Stone?
Yes.
Carbide burr set has high permanence material called tungsten carbide. It makes the tool viable for cutting, engraving, shaping, and sculpting stone. We see this evidently when used on ferrous and non-ferrous materials. A different cut of die grinder burr set best suits certain materials. Regardless of size, shape, or design, you wish to make, carbide burr set can provide all the functions.
Note that performing functions on stone takes some time and requires a lot of caution. Furthermore, you must use a tool with undoubting sharpness. Syndent uses tungsten material that has a high cutting ability to process its tungsten carbide rotary burr set. Light in weight, our tool issues required control by the user.
Can Carbide Burr Set Cut Glass?
Yes, it can.
Although not meant to offer specific functions on glass, in some instances you can positively apply on the glass. Most modern tools designed from tungsten carbide sharpen for sharpening, cutting, or grinding feature different functions. Industries use them in cutting or shaping stone, wood, steel, etc. Also ideal in glass art because of extreme hardness, durability, and toughness.
If you intend to apply most of the tasks mainly on glass, Syndent has fiberglass router bit. Our tool can impressively perform on glass in whatever circumstances.
Does Carbide Burr Set Cut Steel?
Definitely it can.
Majority of metal fabricators and tool-making engineers commonly use tungsten burr set in different ways. Built with high rotating capabilities, Syndent tungsten carbide burr set enables you to manipulate the material the tool works on. When working with hard metals like steel, carbide burr set removes materials, deburrs, and shapes material greatly. Engineers and fabricators, therefore, prefer the tool when making objects out of steel like jewelry making, sculpting, etc. You may alternatively use carbide burr for steel if your tasks mainly feature steel metal.
Between High Strength Steel and Tungsten Carbide, Which One Looks Stronger?
Ideally, metal burrs come from tungsten carbide, High Strength Steel, or diamond. If you intend to work mostly with metal, you may choose tungsten carbide burr as your preferred choice. Compared to HSS burr, tungsten carbide burr looks very much denser, stronger, and harder.
Thus, it makes your demanding jobs much simpler than when you use HSS. Furthermore, wearing ability is much lower than HSS. High Strength Steel gives very little tolerance in terms of rust and heat. You can perform longer and better under hot conditions with Syndent tungsten carbide rotary burr set.
Does Carbide Burr Set Engrave Wood?
Yes.
Now you understand how we make hard and dense carbide burr set. Without any doubt, die grinder burr set nicely cuts wood. But then, we need to understand that wood has a low fire point with heavy oiliness. When you cut or engrave, the carbide burr set can easily be stuck when temperatures rise up. This demands that you clear out dust from the flutes unless the operation slows down and material scorched.
You can only clear up such a mess with carbide burr set that has bigger flutes. If you introduce Syndent carbide burr for wood carving with bigger flutes, it mends the problem. Syndent has greatly dealt with the cutter's angle so it fits woodworking. It doesn't stick, clog, and ideal in hot conditions.
Can Carbide Bur Set Cut Stainless Steel?
Yes.
Die grinder burr set tends to assertively cut hard metals including stainless steel and steel. In the extremely hard and dense nature, you may use carbide burr set on stainless steel in different sectors. This includes industrial shops, brake shops, die manufacturers, body shops, etc. We suggest you switch to carbide burr for stainless steel for self-assured performance.
Can You Cut Bones Using Carbide Burr Set?
Yes, very possible.
We have carbide burr kit designed for combative bone structure cutting. With distinctive geometry, the special carbide burr set efficiently cuts bone and even hard tissue as it removes debris. Popularly used by dentists to prepare patient's teeth in readiness for refilling the cavities.
What Materials Can You Cut With Carbide Burr Set?
Tungsten carbide rotary burr set efficiently cuts:
Stone
Nickel
Hardwood
Drywall
Concrete
Ceramic
CRP
Copper
Cast Iron
Gold
Titanium
Zinc
Glass
GRP
Which People Use Carbide Burr Set?
An industry can have a list of several workers who frequently use burr set. Syndent supplies a highly durable carbide burr set for specific users in industries. These include:
Grinders
Welders
Jewelry makers
Model engineers
Fabricators
Engineers
Carvers and engravers
Sculptors
Tool makers
Casters
Made from denser tungsten carbide, its peculiar uses apply in:
Metal smith
Dental
Automotive for cylinder head porting
Aerospace
Railway
Shipyard
Can You Create Drills With Carbide Burr Set?
Yes.
Carbide burr set has built-in special characteristics that make drilling materials possible. Although not specially designed for drills, you may make carbide burr set a good drilling tool for the time. We make them in special cut styles and a correct choice can dig through materials.
Single cut for example can particularly serve as a drilling tool. Built with single flute, Syndent single cut burr set positively digs while creating fine longer chips. Besides creating chips, the right choice head diameter can also increase the depth or width of a hole.
A lot of industries know Syndent for developing and furnishing its customers with more cutting tools. From varieties produce, we suggest rotary file bit for drilling purposes.
Why Should Carbide Burr Set Continue in Motion and Not in Longer Stillness?
We highly encourage to keep carbide burr set in motion when using it and not prolonged stillness. Keeping it utterly still greatly affects the jabbing/digging ability, occasioning to imperfect cutting, grinding, and smoothening of a workpiece. It forms unusual smoothness on the workpiece and leaves behind unsightly marks.
Helpful note:  Soft cast iron best de-clogs carbide cutting tools. For a simple and easy smoother finish on the surface material, apply an upstroke.
Why Shouldn't We Apply Extremely High Pressure With Carbide Burr Set?
Since the design nature of carbide burr is to revolve at extreme speeds, it doesn't need extra pressure. With a special arrangement of sharp flutes, carbide burr set, it needs less effort while guiding the blades into action.
If we use much pressure the blades gradually start to grow blunt, the working efficiency deteriorates as well. Since we don't sharpen the flutes of carbide burr set, it demands setting a budget for another carbide burr set. If you use the burr bit set the right way, everything goes well.
Which Common Cuts Does Carbide Burr Set Have?
Carbide burr set has a total of three commonly used cuts. It offers single cut set, double cut set and aluminum set.
Single cut
These have single flutes that offer right up cut and commonly applicable with cast iron, copper, steel, etc. It also best applies on ferrous materials including aluminum. They basically give quicker stock removal and don't clog. However, they smooth finish capabilities.
Ideal in:
Milling
Fluently removing stubborn stock
Digging deeper into materials, producing longer chips
Cleaning
Removing burrs
Double Cut
They have both the right and left flutes that interweave each other for extremely fast and finer finish. Therefore, they work right on steel, stainless steel and other soft materials featuring aluminum, gold, soft wood, etc.
Dual cut carbide burr set does the following:
Creating very small chips
Smooth finishing
Grinding
Clearing burrs
Polishing
Cleaning
Removal of very light stock
Aluminum Cut
They have the same features as the single cut although designed for softer materials like aluminum, etc. They can effectively remove heavy stock from soft materials without easy clogging.
Basically, aluminum cut provides:
Finishing
Deburring
Hole enlargement
Clearing welds
Cutting aggressively
Smoothening
Grinding
Can You Possibly Recycle Carbide Burr Set?
Yes.
Developers of carbide burr set easily recycle all the tools they manufacture to make several other products. The dense cemented carbide involved in developing carbide burr set doesn't affect our environment negatively. With a group of responsible employees, Syndent can utilize the latest technology together with CNC machines for recycling.
By reaching Syndent customer care representatives, we can arrange for the collection of used-up carbide burr set. We can together make a safer environment for all of us.
How Many Types of Carbide Burr Sets Do We Have?
We have basically six types of carbide burr sets popularly used in industries. They include 5 pcs carbide burr set, 10 pcs carbide burr set, 8 pcs carbide burr set, etc.
5 Pcs Carbide Burr Set
5 pieces come as dual cut carbide burr set with 1/4-Inch or 6mm shank. It fits on most die grinders and offers high processing quality, high finish and material processing. Provides sharp and durable cut, mostly for metalwork, model engineering, wood carving, tool making, etc.
10 Pcs Carbide Burr Set
10 pcs burr set features heat-treated tungsten carbide to offer a sharp and highly durable cut. Has 10 times greater strength than high-speed steel burr. Suitable cutter for clearing out contours and most corners.
8 Pcs Carbide Burr Set
8 pcs carbide burr set features double cut, made using solid carbide. Comes in 1/4-inch with 6mm shank size.
9 Pcs Carbide Burr Set
Features 9 pcs miniature burr set dedicated for removing metal, all of them with 1/8-inch and a 3mm shank.
Extended 4 Pcs Carbide Burr Set
Also called oval shape, extended 4 pcs burr set removals round edges on materials.
Aluminum Carbide Burr Set
Features 5 pieces burr set designed for aluminum metal and several other non-ferrous materials.
Do Carbide Burr Set Come in Non-identical Shapes?
Yes.
In order to handle mismatched tasks needed on materials, burr set comes in individual shapes. These include cylinder shape, ball shape, flame shape, taper shape, cone shape, tree shape, etc.
Cylinder Shape
Has the head in a form of a cylinder and finishes contours. Also, clears flat surfaces on workpieces.
Cylinder-End Cut
With flat end, effectively clears contours and works on workpieces with tight right angles.
Cylinder with Radius End
Cylinder with radius end carbide burr set clears contours as well as arc surfaces on materials at angles.
Ball Shape
Offers smooth machining of the round edges of given workpieces. Also, prepares your workpiece for brazing.
Oval Shape
Carbide burr set in oval shape can efficiently clear off round edges on materials at hand.
Tree-Pointed End
Looks like a tree and has a pointed end. Successively grinds any round-edged material surface. Easily accesses long and narrow locations that the other shapes cannot reach.
Tree-Radius End Shape
Like a tree and with radius end, used by a machinist in working out round-arced contours. Operatively machines in very long and extremely narrow positions of your workpiece.
Flame Shape
Special burr set used in machining workpiece that has round edges.
Cone Shape
Works in a similar way like the countersink and whose main task includes chamfering of inner holes.
Taper with Radius shape
Used by machinists for reaching out tight areas on workpiece and removing contours.
Inverted Cone Shape
Ideal burr set used for chamfering rear parts, beginning from the inside.
In a nutshell, you can now confirm how usefully we build tungsten carbide rotary burr set. You discover that they have a big role they play in industries especially in making work easier and faster. When you buy assorted shapes from Syndent, you have limitless functions on particular workpieces. 500 Fortune Companies appointed Syndent to supply them with carbide burr cutters.  We develop brittle, quality and sharp cutters.
Do Carbide Burr Set Feature Different Sizes and RPM?
Yes.
Syndent manufactures burr sets in five standard sizes and each has RPM as clearly indicated below:
| | | |
| --- | --- | --- |
| No | Size | RPM |
| 1 | 2.4mm | 17,000 – 26,000 |
| 2 | 3.0mm | 17,000 – 26,000 |
| 3 | 6.0mm | 11,000 – 16,5000 |
| 4 | 13.0mm | 8,000 – 12,000 |
| 5 | 16.0mm | 7,650 – 11,500 |
As you see, the 5 sizes that Syndent carbide burr set appear in have a range of speeds along. It clearly shows the minimum speed you can use and maximum you should go while doing your project. Mostly, the type of material can dictate the amount of speed to use for effectiveness. The overall all of the speed you can go is 35,000 RPM.
Useful note: Before you start your project, take note of the speed range and type of material. Start your task slowly and gain momentum as you get along up to what your material demands.
Is It Worth to Buy Carbide Burr Set?
Absolutely.
Carbide burr set comes from dense carbide raw materials, intensely developed by a group of qualified staff. Burr set manufactured by Syndent S&D team can provide long-lasting and highly durable cut.
The carbide burr kit features mixed shapes and sizes. You can sensationally manage a handful of tasks with little time.
Easily produces accurate dimensions. For any application applied on materials, Syndent carbide burr set promises error-free results. Our tool features the lowest tolerance level of 0.1mm thus, it gives specific dimensions.
You can do all jobs cost-effectively. Syndent has a competitive price tag on purchases made in bulk.
Which Caution Should You Take with Carbide Burr Set?
Secure workpiece correctly in the effective workbench to stop damage on carbide burr set, and protecting yourself
Insert the shank of carbide burr set into a chuck and ensure secure clamping
Don't snag or jam the carbide burr set during operation as this might damage the flutes
Keep carbide burr set on the move and not still, aiming at material
Cover your face and protect your hands with safety gear
Take maximum care when doing large materials since the burr set has high gravities
If carbide burr set grows hotter, it causes dusk or mist. When you inhale or swallow them, they can cause harm. They also can cause skin irritation thus, take maximum caution always
What Drives Buyers to Quality Carbide Burr Set?
Meticulous Design: Means precisely designed with each production stage producing quality features. Syndent carries extensive quality development in regard to international industrial standards.
Durability: Highly durable carbide burr set offers much needed tooling requirements. Syndent applies heavy raw materials to build a durable and stable carbide burr set.
High-temperature Resistance: Regardless of conditions exposed to, the carbide burr set should offer high resistance to heat.
Accuracy/Stability: Tungsten burr set guarantees clear-cut performance which industries need in successful projects. Besides accuracy, Syndent tungsten carbide rotary burr set works with a lot of stability.
Weight/Versatility: The market has many brands of burr sets with incompatible qualities and weights. You should target a lightweight carbide burr kit that gives easy control and highly versatile.
How Can I Clean Carbide Burr Set?
As routine maintenance, clean carbide burr set before you begin another task. For prolonged storage, use anti-corrosion agent to preserve the carbide burr set against rust.
Carbide burr set used with aluminum can take a simple method involving muriatic acid. But first, chip out debris with a soft brush then soak the carbide burr set in the acid. After 10 minutes of soaking, the acid dissolves every aluminum particle left on the tool.
For any carbide burr set used on materials like steel, cast iron, copper, or titanium, ultrasonic method best applies. Popular method used to effectively clean cutting tools in industries and needs few steps. With a holder, firmly secure burr set in a holder before applying enzymatic cleaning for two minutes. Finally, use very clean, cold water to rinse off residues for two minutes.
Which Lead-Time Can Determine the Way We Build carbide Burr Set?
Standard Designs: Syndent's standard carbide burr set has basic designs which don't demand more than enough time. Therefore, you receive your order like immediately.
Customized Designs: For a customized carbide burr set, the case looks different. We add extra adjustments to machines because of extra features. This consumes most time hence, delayed delivery.
Order Quantity: Our services comprised of both small and large deliveries. You realize that small orders don't have lots of demands so deliveries take the shortest time as opposed to large.
Pending Orders: Syndent delivers to the top-most popular Companies in the world. With the overflow of orders, it depends on how your order comes in. If we have pending orders already, your latest one has to wait until we clear out with what we have. But we provide an alternative to a rush order. You pay for it to have a quicker delivery.
Apart from carbide burr set, we also develop solid carbide burr, rotary file set, etc.
Syndent has a warranty on carbide burr set and the rest of its products. If experience some anomalies with Syndent carbide burr set, contact us. You as well inquire about the new carbide burr set.