Your Reliable Carbide Burr Manufacturer in China
More than 12 years of carbide burr factory
Manufacture your carbide burr in the advanced CNC machine
Top-grade tungsten carbide raw material
Best after-sales services to ensure your business risk-free
Syndent Carbide Burr
Syndent Carbide burr, also called metal burr or carbide burr tool, is manufactured for different field uses. Syndent is a professional carbide burr manufacturer in China for more than 11 years.
Carbide grinding burrs are widely used to cut different burr materials. You can use Syndent carbide burr to fluently remove the hard metal, cast iron, steel.
They also have the best performance when applying our carbide burr for aluminum, copper, plastic, wood, zirconia, ceramic, etc. You'll work easily instead of working hard based on Syndent carbide burr.
We make extremely quality control on every manufacturing process, and check quality toward every piece of best carbide burrs before delivery. Syndent can offer you the most stable carbide burr.
Syndent manufactures your carbide burrs with 6-axis CNC machines. And they are fully brazed by automatic machine. Syndent has been supplying high-quality burrs for tungsten carbide manufacturers in USA. You must have the same performance carbide burrs made in USA because we also used USA carbide burr technology.
Why Syndent Carbide Burr
All of your carbide burrs are produced by Syndent 6 Axis CNC machine. The computer-controlled grinding wheels finish your carbide burr flutes precisely. It always delivers exactly the same geometry cut edge for your carbide bur business. Either on hardened steel or non ferrous aluminum, our carbide burr will perform very well.
We will test your every carbide burr quality before the shipping. You will always have active reviews or comments when developing your carbide burr business.
Syndent promises carbide bur free return toward any quality issues complained on your side. You will not have any risks on Syndent quality assurance policy.
Syndent served FORTUNE 500 companies and had many experiences. We can control better quality and improve your carbide burr business rapidly.
Manufacturing
Catalog
Shipping
Material
Syndent will check the raw material specifications of carbide burr before production.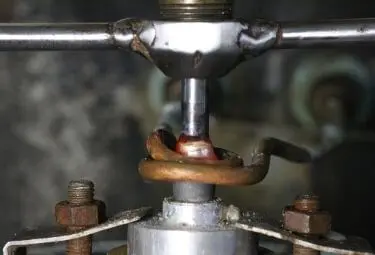 Brazing
Syndent automatically brazes carbide burr with silver in a low temperature
Balancing
We must make the carbide burr jumping test after brazing. The tolerance is less than 0.1mm
Bending
Syndent examines the hardness of carbide burr shank after brazing, and tests the bending strength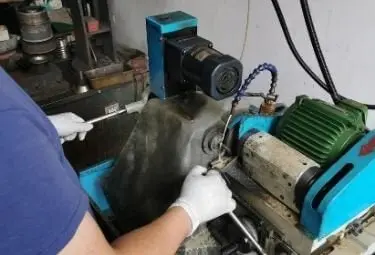 Shaping
Solid carbide burr needs a shaping process from the carbide rod materials
Toothing
Syndent CNC grinds the carbide burr teeth after the tests approved
Polishing
Syndent polishes the carbide burr shaft, and its brazing position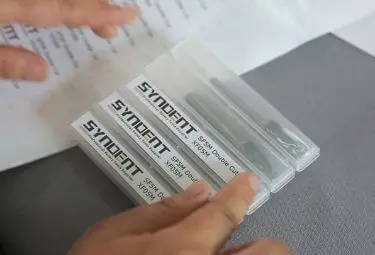 Packaging
Syndent makes your logo on the carbide burr, and stick your own label on the case.
Your Best Supplier of Carbide Burr
Syndent can manufacture both standard carbide burrs and specialty carbide burrs.
You can find industry carbide burr, dental carbide bur, surgical carbide bur, nail carbide bits, podiatry carbide bits, and carving carbide bits from Syndent.
Please send your full requirements. We will mail you the competitive price list.
You can customize your own logo and label. Syndent will help mark it on your carbide burr shank and stick it on the box. You will have a unique sign by yourself.
Also, you can composite your own carbide burr set as you wish. Syndent excellent quality must help you to be the famous carbide burr supplier in your area.
Syndent has a large carbide burr manufacturing capacity. There are 40 sets of CNC machines in our company.
We can manufacture more than 5000 pieces of carbide burr every day. Syndent can help deliver the carbide burr to your address very fast.
Syndent helped many carbide burr wholesalers and distributors replace world-famous brands in the last 10 years.
Furthermore, United States manufacturers source carbide burr from Syndent too.
We have plenty of carbide bur manufacturing & service experience. Syndent is your ideal carbide burr manufacturer.
Syndent can manufacture different shape carbide burrs or carbide burr sets based on your requirement.
Get an instant quote for Your next carbide burr order now!
Carbide Burr: The Complete FAQ Guide for the importers
Do you want to have an expert OEM supplier, or try to find a professional carbide burr manufacturer? Whatever questions you may have, this is a helpful guide to your carbide burr business.
Let's get started to learn more.
What is a Carbide Burr?
Carbide burr(also named rotary file or rotary burr) refers to a type of rotating tool used for deburring, cutting, grinding, shaping, and removal of excess material, sharp edges, and burs. Sometimes you can use it for chamfering and drilling.
It is made of tungsten carbide with various types of cuts on it. Different cuts have different functions on different hardness materials.
Syndent knows exactly how to design the most suitable cuts for your current jobs.
Carbide burr is designed to rotate at extremely high speeds hence enabling it to handle the specific material it works on.
Burr is suitable for shaping, deburring, and enlarging holes, especially when working on different types of metals.
It is commonly used in a wide range of industries but majorly in metal fabrication and engineering. Strongly recommend you store a few Syndent carbide burrs in your own tool station for later use.
What are the Uses of Carbide Burr?
Carbide burr has a wide range of uses depending on a specific sector.
Some of the common uses include the following;
Shaping material – This involves the removal of unwanted material to develop an ideal shape on the particular surface material.
It entails molding a component to attain the necessary dimensions and appearance you desire.
Grinding – This is a process involving the removal of excess or unwanted material from a workpiece.
The carbide burr rotates at high speed and subsequently cuts material off the workpiece as it creates a smooth textured surface in the process.
Cutting – Carbide burr is also vital when it comes to slicing the workpiece into the required size, shape, and dimensions.
Deburring – It is the process of modifying a workpiece by removing burrs, or sharp edges from the material to create a smooth-edged surface.
Enlarging holes – This refers to the process of expanding the size of holes in a particular workpiece you're working on.
Technically, carbide burr is a multi-purpose machining tool as you can see from the wide range of uses mentioned above.
However, the specific use of this tool is dependent on the exact type of carbide burr you are using for the process.
Why should you Invest in Carbide Burr?
Carbide burr presents various advantages, thus making it a worthy investment.
Some of the benefits of this tool include;
It is designed and made from high-quality tungsten carbide materials, which meet the international standards requirements for load-bearing.
This is essential since it guarantees strength, which helps in reducing the risk of breaking.
They come in a variety of designs, sizes, and shapes.
This is vital since it broadens your options when looking for a particular one, which suits your demands.
This tool provides excellent dimensional accuracy in the specific tooling process.
This is vital because it allows you to obtain workpieces with the required balanced tolerance.
It is reasonably cost-effective to purchase and use carbide burr for different applications, particularly when you buy in large quantities.
The advantage here is you'll be able to save a considerable amount of money even when working on a tight budget.
Most carbide burrs are versatile, which means you can use them on different types of applications for a variety of functions.
You obtain increased efficiency when using carbide burr for different functions since they are relatively sharp.
In that aspect, you're able to attain even workpiece preparation accordingly.
What are the Varieties of Carbide Burr available?
Ideally, carbide burr comes in a wide range of varieties, and the common ones include the following;
End cut cylinder carbide bur
Oval carbide bur
Flame-shaped carbide bur
Cylinder carbide bur
Pointed tree carbide bur
Flame-shaped carbide bur
Inverted cone carbide bur
Extra-long carbide bur
Cone shape carbide bur
Round tree carbide bur
Countersink carbide bur
Ball-shaped carbide bur
How do you Manufacture Carbide Burr?
The manufacturing process of carbide burr is relatively intensive.
It involves several processes, which require meticulousness from various perspectives.
Here is a step by step process of manufacturing this tool;
Raw Material Assessment
Carbide burr can be manufactured from tungsten carbide.
However, the raw material must pass the minimum quality requirements to guarantee the best results.
Primarily, the first step thus involves the evaluation of the material to ascertain it meets the required specifications before the production process starts.
Brazing
This refers to a metal-joining process involving two or more metals by melting and flowing filler material in the joint.
In this case, it is an automatic process, which entails using silver as the brazing material in relatively low temperatures.
Balancing
It is the next step after brazing and entails jump testing.
Ideally, the idea here is to ensure a tolerance level of less than 0.1 mm is achieved.
Bending
This step involves the examination of the hardness of the carbide burr.
It is essential since it allows you to test the strength of the tool by bending it up to a certain extent.
Shaping
It involves working on the carbide burr to a predetermined shape by grinding.
Toothing
This step entails grinding the carbide burr teeth once the test is approved. The essence is to enable it to attain different flute styles.
Polishing
This process is part of the finishing aspect ideal for smoothing the shank of carbide burr using an abrasive material.
Packaging
It is the ultimate process in carbide burr manufacturing. This step involves customizing by making your logo and sticking your label on the case.
Which Materials can be worked by Carbide Burrs?
There is a multitude of materials, which can be worked with carbide burrs.
They range from metals, plastics, and wood, among many others.
Some of the common materials include the following;
Aluminum
Cast iron
Ceramics
Zinc
Fiberglass
Carbon steel
Stainless steel
Titanium
Wood
Brass
Gold
Cobalt
Acrylic
Nickel
Silver
Gold
Nevertheless, it is important to understand different carbide burrs are ideally suited to particular materials.
What are the Features of an Ideal Carbide Burr?
Here are some of the essential properties of a suitable carbide burr;
Hard-wearing – The material needs to be hardy to prevent the carbide burr from wearing out faster. In essence, it guarantees reliable service in specific applications.
High tensile strength – Carbide burr is strong, thus making it an ideal choice for specific applications where intense machining is a concern.
Excellent dimensional stability – Carbide burrs are designed from materials, which tend to maintain original dimensions.
Versatility – You can use carbide burrs in different applications but still maintain the ideal results from the application.
Accurate – The dimensional accuracy of carbide burr is high. They are designed to attain a balance tolerance of 0.1mm.
Superior weathering ability – Carbide burrs are made from materials, which make it possible to resistance to various environmental and weathering elements.
Lightweight – This tool is lightweight, which is critical in enhancing performance as a result of reduced operational weight.
What is the Ideal RPM Speed when Using Carbide Burr?
Typically, the ideal speed for carbide burr is dependent on three main elements;
The specific material you're cutting with your burr
The diameter of the carbide burr head
The power output of die grinder, drill, or flexible shaft
Nonetheless, the highest effective speed for carbide burr is highly recommended.
In principle, this helps in removing the swarf as well as reducing chattering against the workpiece. In return, this helps in enhancing the finish from the burr cut.
Also, there is no exact RPM speed when using the carbide burr tool.
However, it is advisable to use the maximum effective speed available.
Even so, it is recommended that you should never exceed speeds of 35,000 RPM for the big-size head.
How to Choose Carbide Burr Flute While Working on Soft Material?
In most instances, soft plastic and non-ferrous metals tend to clog up the carbide burr's cutting head.
For that reason, you need to use a nonferrous cut carbide burr.
Relatively hard metals will not necessarily clog up the carbide burr cutting head.
You can only obtain this when using a diamond-cut carbide burr head to speed up the grinding process.
How much Does a Carbide Burr Cost?
You naturally think of Lowes, Amazon, Walmart, home depot, and harbor freight while buying carbide burr and other tools because you like to buy it at a cheaper price and quick delivery. That is no problem.
You will know how to buy it at a rock lower price than Lowes, Amazon, Walmart, home depot, and harbor freight after reading the below contents.
The cost of carbide burr is dependent on host variables.
The specific material is one of the elements, which determine the amount you'll pay to buy this type of machining tool.
Remember carbide burrs are designed from tungsten, which typically can be available in different grades.
A relatively superior tungsten grade will be a bit pricier than an inferior grade.
The design or shape of the carbide burr you are purchasing is also another fundamental element, which determines the cost.
Different shapes or designs of this component are priced differently.
In many instances, the minimum order you are purchasing also influences the cost of carbide burr.
Most suppliers usually offer significant discounts on large quantity purchases compared to buying small quantities.
The particular supplier you are purchasing the carbide burr units is also another cost determinant.
Various suppliers have different pricing models for these components guided by wide-ranging production and market demands.
Moreover, the precise delivery destination tends to influence the ultimate cost of carbide burr.
The longer the distance the higher the cost. Remember the overall costs includes shipping charges.
If you're a customer purchasing locally, you'll find it somewhat cheaper since the process won't involve additional customs and freight charges.
In principle, overseas orders are likely to be subjected to additional freight and customs duty where applicable.
Syndent is a carbide burr manufacturer in China. We know exactly how to ship it from our plant to you quickly at a lower price. Send us your inquiry now, you must be satisfied with what you received.
Is there a Size Limitation in Carbide Burr?
Not necessarily.
Carbide burr can be designed in different sizes based on your specific demands. The applications of this machining tool also vary in terms of size.
Therefore, it would be somehow impossible for the production of these components to be limited to a particular size.
Which Industries Benefit from Carbide Burrs?
As a machining tool, carbide burr can be used in a multitude of industries.
The common sectors, which benefit most from this tool include the following;
Engineering
Wood carving
Jewelry making
Metalwork and fabrication
Cylinder head porting
Welding
Sculpting
Depending on the industry and applications, you can choose carbide burrs for steel, stainless steel, aluminum, wood carving,
How do You Determine the Quality of Carbide Burrs?
From the face value, it can be somewhat difficult to tell whether or not particular carbide burrs are of high quality.
However, there are specific approaches you can take to determine the quality of carbide burrs such as the following;
Meticulous design – A quality carbide burr is carefully designed as per the required industry standards.
It also captures all the relevant details depending on the particular application.
Made to strict tolerance – The precision of a specific carbide burr needs to comply with international standards.
In essence, this helps in eliminating any incidents of probable defects.
Durability – Undoubtedly, a quality carbide burr must be tolerant to various types of tooling conditions.
Ideally, it should be strong enough to handle different types of metallic workpieces without compromising the quality of results.
High temperature tolerant – Quality carbide burrs perform better at relatively high temperatures.
This is important since it allows you to run them hotter for longer.
Why are Carbide Burrs available in many Shapes?
Carbide burrs are rotating tools, and the friction between the component and the workpiece can be unforgiving.
Principally, the shape of carbide burr directly reflects the precise shape of the cut you'd wish to attain.
It thus becomes vital always to ensure you have the right shape for a finished profile you're aiming for when selecting carbide burr.
Can you Find Custom-made Carbide Burr?
Absolutely correct!
Most of the manufacturers of carbide burr and related accessories always provide custom products.
Ideally, most of these tools are customized since they are designed to fit particular applications with different variations.
The essence of customizing carbide burr is to allow you to get the pieces, which meet your respective demands in your applications.
All you need to do in such instances is provide a design blueprint for the carbide burr, and the manufacturer will handle the rest.
How Long Does a Carbide Burr Last?
Well, various factors determine the overall durability of a carbide burr.
Typically, the design geometry of different types of carbide burrs plays a significant role in enhancing longevity.
A meticulously designed carbide burr will always guarantee efficiency as far as longevity is concerned.
The usage intensity is the other element that influences the durability of an ordinary carbide burr.
Tooling is unforgiving; hence the more you exert pressure when using it, the faster it wears out and vice versa.
Also, the type of material used for constructing the particular carbide burr determines its longevity.
Materials such as aluminum and steel are relatively stronger hence guaranteeing higher durability.
Moreover, the diameter of the carbide burr is another fundamental determinant of its durability.
Ideally, a smaller diameter will likely wear out faster than a bigger diameter if both are subjected to similar conditions.
And more importantly, the RPM you are using when tooling with your carbide burr also influence the overall durability.
The higher the RPM, the faster the tool will wear out and vice versa.
Are There Any Surface Coating Treatments for Carbide Burrs?
Yes.
Even so, it is important to understand the ideal surface finishing treatment for this component depends on its particular application.
In essence, different applications are treated using various types of surface coatings.
Some of these surface coatings include the following;
Titanium coating
Diamond-like coating
TiALN coating
Blue Titanium coating
Can you use a Carbide Burr on a Drill?
Yes.
You can fix carbide burr on the drill and use it for a number of tooling activities.
However, when using this component on a drilling machine always avoid exerting too much pressure on it.
When you apply too much pressure, you subject the cutting edges of carbide burr will chip away.
Moreover, these cutting edges may become smooth relatively fast, thus reducing the overall longevity of your carbide burr.
What are the Quality Standards that Carbide Burr Manufacturing Process Should Comply with?
There are quite a several both at the national and international levels. However, the most common ones include the following;
ISO 9001 – This is an international quality standard measure, which described several quality management systems and processes.
ISO 9001 demonstrates the supplier's ability in producing parts that comply with regulatory and customer needs.
CE Mark – This is a standard mark of quality ascertaining the carbide burrs conformity to outlined health, environmental, and safety requirements.
This standard is common particularly for carbide burrs and other products entering the EU region.
ASTM – This quality standard agency develops and executes voluntary control according to several technical specifications for products and systems.
PMPA – This quality standard body is in charge of overseeing the production of various types of precision tools.
Can you Engrave an Artwork on Carbide Burrs?
Yes.
You can engrave a logo, text, or numbers on the surface material of the carbide burrs.
This always happens immediately after polishing as part of the customization process.
In this case, you only need to provide the specific artwork design you'd wish to be engraved on the tool.
Are Carbide Burrs Eco-friendly?
Technically, it depends on the specific type of material used for making the carbide burrs.
Of course, different materials have varied properties as far as eco-friendliness is concerned.
There are some carbide burrs made from extremely eco-friendly materials.
It thus means you can easily recycle and reuse them either in making the same or any other components.
On the contrary, there are other materials, which are not friendly to the environment. Therefore, once they wear out, you only need to dispose of them in the landfills.
What is the Average Lead-time for Manufacturing Carbide Burrs?
It usually varies based on a myriad of elements including the following;
Standard designs – Generally, manufacturing a standard carbide burr is relatively fast than a customized unit.
Standard types do not necessarily involve numerous procedures compared to custom designs. Machines only require minimal adjustments to manufacture these designs hence time-effective.
Therefore, if you order standard designs you're likely to receive them within the shortest time possible.
Customization needs – Relatively complex carbide burrs design and shapes tend to be relatively more time-consuming than simple designs.
It thus means if you are to go for the former, there is a likelihood of waiting for more time than if you'd go for standard designs.
Order quantity – The number of units or pieces of carbide burrs you are ordering also influences the overall lead-time of getting these items.
If you order a high volume, it may take longer than when purchasing a few units.
Pending orders – At times, there could be a number of orders from other customers awaiting fulfillment.
This may take more time to get your order since there is always the need for fulfilling the pending orders on a first-come, first-served basis.
In any case, there is always an option for rush orders, which allows you to get your order within the shortest time possible. But you have to arrange with the supplier in advance to facilitate the process.
Why is China the Best place for Sourcing Carbide Burrs?
In China, you're likely to get a variety of carbide burrs irrespective of design, size, shape, or pattern.
The advantage, in this case, is you'll have a broad range of options making it easy for you to get exactly what you're looking for.
Most of the Chinese suppliers have a flexible MOQ hence allowing you to acquire the number of units you'd require irrespective of your budget.
Carbide burrs are relatively affordable in China since numerous manufacturers are producing these items.
It thus makes competition for customers relatively stiff, which is advantageous to you as the customer.
Most of the Chinese manufacturers of carbide burrs have invested extensively in systems, processes, and equipment.
This helps in enhancing the production of quality units, which is important in enhancing the efficiency of these tools.
If you're looking for a carbide burrs manufacturer in China, then consider Syndent. You can have the most popular tungsten rotary burr in the current market from us.
With years of experience in the carbide burr industry, Syndent offers unlimited solutions in the carbide burr industry depending on your specific needs and requirements.
Our highly skilled team, advanced CNC machines, careful selection of quality raw materials, and ability to maintain tight tolerances, make Syndent a leader in this industry – contact us now.
What is Steel Cut of Carbide Burrs?
Steel-cut means a unique design flute. These carbide burs are used for cutting steel and other similar metals and materials.
They provide efficient surface stock removal and weld splatter. You can confidently apply them in chamfering, deburring, and for medium to light cleaning tasks.
Due to the innovative steel-cut, Syndent has developed special cutting burrs. You can efficiently use them to machine steel as well as cast steel.
Steel-cut carbide burrs have tangible aggressiveness with simultaneous god guidance when cutting such metals.
Therefore you have guaranteed safety when using them and provide accuracy in your tasks.
The tungsten carbide substrate is quite hard and Syndent designs the tool with stronger teeth. They have reduced tooth wedge angle with several cutting edges.
This enables Syndent steel-cut carbide burrs to manage high stock removal. Also, they offer smaller granular chip-break on workpieces that you can hardly grind.
Using Syndent steel-cut carbide burrs, you can manage all demanding production needs with little changeovers.
The ideal carbide burrs have a significantly extended life with a better stock removal experience. They perform better on steel and similar materials, unlike other burrs.
Syndent has designed them with very special geometries. This ensures it meets the increasing demands of steel, cast steel and composites applications.
With high versatility, the steel-cut carbide burrs perform best even at higher temperatures. You can use them for longer than the high-speed steel burrs.
You can make precision machining of steel and other materials, craft carving, cleaning, and chamfer-rounding.
Also, you can as well apply groove processing of steel, hardened steel, and so on.
What is The INOX of Carbide Burrs?
The INOX of carbide burrs simply refers to uniquely developed carbide burrs used especially on stainless steel (INOX). These special cutting burrs appear in the form of an INOX cut.
The INOX cut has quality features including a high stock removal rate. This looks evident when applied on any austenitic steel and also on rust and acid-resistant steels.
The INOX carbide burrs have specially developed a geometry that suits the increasing market demands for all stainless steel applications.
You can use such special burrs as cost-effective options to standard solutions.
This is because of the high rate of stock removal on stainless steel and austenitic, ferritic, and martensitic-based materials.
Some of the features and benefits include the following:
Developed special cutting geometry, which produces high stock removal on all INOX components
High grinding performance that ensures that helps you save on production and minimal downtown
The special cutting geometry minimizes heat build-up between the flutes and your workpiece
Designed using CNC machines, they provide quality and consistent performance
Syndent manufactures the ideal carbide burrs to strict quality standards with the brazed joints 100% inspected
The exclusive INOX of carbide burr cut guarantees a lasting and faster cut.
You can machine materials of any strength because Syndent manufactures them with high compliance with high-quality standards.
They have very reduced vibrations during the cutting or grinding process.
The featured burr shapes include the SN type, SM type, SL type, SJ & SK type, SH type, SG, etc.
The applications include contouring, deburring, and milling in readiness for build-up welding and edge chamfering.
Other uses include modifying the workpiece geometry, cleaning of cast material, and so on.
Carbide Burrs Vs HSS Burrs
Most manufacturers design cutting tools from high-speed steel, tungsten carbide or diamond.
High-Speed Steel (HSS) refers to high-carbon tool steel that has a good percentage of tungsten and cobalt.
We classify them as highly-alloyed tool steels with properties like hardness and high-wear resistance.
It has a hardness of around 65 HRC. This implies you can use the HSS burr to a certain degree of hotness during high-speed cutting.
Carbide steel on the other hand means a carbon compound combined with an alloy metallic element.
In this case, Syndent uses an equal amount of tungsten elements with carbon which forms a metal carbide.
Tungsten carbide burrs enable you to machine even harder materials, approximately 70+ HRC.
Tungsten carbide burrs have high red hardness and can maintain this even at 1000 ℃. Compared to HSS burr, carbide burrs perform at high efficiencies because of extreme hardness.
The high hardness almost resembles that of a diamond. Besides high hardness, tungsten carbide burrs have the high abrasion resistance and reduced friction.
They provide smooth and precise machining on your workpieces without leaving rough marks.
Carbide burrs have high cutting speed than High-Speed Steel burrs. They perform 4 to 7 times better than the HSS burrs.
Due to high hardness, carbide burrs have longer tool life and a faster cutting efficiency than a conventional HSS burr.
HSS burr has a low lifespan and wears more resistance than carbide burr. Although less brittle, it has more resilience hence you can comfortably apply it to deep cuts.
Which Kind of Machines Can You Use With Carbide Burrs?
Syndent carbide burrs come in standard designs which you can comfortably use on handheld tools.
Our carbide burrs work perfectly on die grinder machines but you can also use the following tools:
Flexible shafts
Micro-motors
Pendant drills
Pneumatic rotary tools
Hobby rotary tools like a Dremel
The handpiece you use on the carbide burr should run true (without wobbling). It should run smoothly without producing a lot of vibrations.
Does Carbide Burr Cut Glass?
Yes.
You can confidently use carbide burrs to make precise cuts and shapes on glass material.
Designed in different cuts, shapes, and sizes, Syndent carbide burrs can adapt to tasks accordingly. This implies you can choose the right shape, size or cutting style to cut glass.
You can confidently use Syndent carbide burrs to shape, cut, deburr, grind or make drills on glass.
However, Syndent designs a special cutting tool suitable for cutting glass. For astounding results and great precision in cutting, use the fiberglass router bit.
With Syndent fiberglass router bit, you can confidently cut glass and make shapes or drills.
Are Carbide Burrs Single Use?
Not really.
You can use carbide burrs more than just one time. Syndent classifies carbide burrs as reusable devices although some may opt to discard them after a single use.
Syndent carbide burrs perform three times better than steel with the ability to withstand high temperatures.
Therefore you can use carbide burrs for more than a single-use and lasting performance.
They can cut steel and other materials for longer without losing the cutting edges. Such features make Syndent carbide burrs ideal cutting tools.
You can excavate and shape materials like bones, steel, cast steel, stainless steel, etc.
Carbide burrs use blades in cutting materials therefore they reduce vibrations or chatter when working on specific materials.
How Should I Clean Carbide Burrs?
If you have hand cleaning as the only option available, then use a reserved sink for such tasks.
Try using a chisel to remove those tough chunks from the flutes first. Then use clean cold running water to rinse off the remaining dirt.
You can use a soft brush to remove the debris. And while brushing off, ensure you direct the dirt away from you.
Then use a special disinfectant agent approved for use on the carbide burrs.
Cleaning the aluminum off the carbide burrs is a quite different and easy process.
Usually, the carbide burr applied on aluminum can become gummy. This happens especially when you cut at extremely high speeds.
To clean aluminum-infested carbide burr flutes, begin by chipping the debris or dirt from the flutes. Then deep the carbide burr into a solution of muriatic acid.
The muriatic acid effectively dissolves the aluminum deposits. This means, if the flutes have other materials like steel, brazing or carbide, the muriatic acid won't dissolve them.
It leaves them unharmed. You can also use caustic soda, lye solution, or sodium hydroxide as an alternative.
How Do You Use Grinder While Pressing On Materials With Carbide Burrs?
When using Syndent carbide burr with a die grinder machine, ensure you work softly but steadily.
Avoid applying a lot of pressure on the material the carbide burr cuts but use gentle push.
Syndent makes carbide burrs with very sharp cutting edges. The carbide burr rotates at very high speeds when fixed on die grinder machines.
The faster rotation ability and sharp cutting effects allow you to cut materials like steel, stainless steel, and more.
You only need a little effort to make a perfect and easy cut. You allow the tool do the job while you focus on the material you cut.
Otherwise, the use of extra energy with the die grinder on materials can cause chipping of the flutes.
Your workpiece then becomes smooth too soon and the life of the burr reduces significantly. It can also leave unsightly marks on the material surface.
How About Quality of Syndent Carbide Burrs?
Also known as metal burr, Syndent carbide burr can provide several industrial applications.
For over 11 years, Syndent has consistently manufactured professional carbide burrs for industrial uses.
Our carbide burrs feature a special design from high-grade tungsten carbide steel raw materials.
Tungsten carbide is a quite hard material with the highest density and has natural sharp characteristics.
Therefore our carbide burrs guarantee outstanding performance on all material surfaces.
Through our advanced CNC machines, Syndent designs highly quality industry carbide burrs.
We provide very sharp and highly effective cutting edges for accurate cuts on steel, cast steel, stainless steel, and more.
The flutes of Syndent carbide burrs don't cause clogging easily. You can cut for a very long time without causing heat buildup between the flutes and the workpiece.
They also have high resistance to friction, corrosion, and wear or scratch.
Syndent manufactures all the carbide burrs through our 6 Axis CNC equipment. The computerized grinding wheels of the CNC machine finish the carbide burr cutting edges precisely.
This helps in delivering a special geometry to the carbide burr. Therefore you can easily complete all your tasks on materials perfectly and faster.
Whether you apply on hardened steel or non-ferrous materials such as aluminum, brass, and more, our carbide burr performs well.
Before Syndent ships the carbide burr to you, we test them for quality assurance.
And if you have quality issues with Syndent carbide burrs, we promise you a free return of our tool.
We always control better quality on our carbide burrs so that you can improve your business rapidly.
Syndent ensures extreme quality control observation on each of our carbide burr manufacturing processes. We again check the quality of each carbide burr tool before delivery.
Therefore Syndent can assure you of stable carbide burrs for your various industrial applications.
We design standard and specialty carbide burrs to suit various industrial needs. These include industry carbide burrs, surgical carbide burrs, dental carbide burrs, nail carbide burrs, etc.
Designed from quality cemented carbide, Syndent carbide burrs can deburr, cut, shape, enlarge holes, machine, etc.
Because of its quality design, the carbide burr has popular uses in numerous industries. Amongst major industrial applications include engineering and metal fabrication.
Our carbide burrs also appear in various shapes and sizes. This is critical in broadening your options when in search of a particular tool that suits your workpiece demands.
Syndent stands out as a leading company in China that manufactures quality carbide burrs.
Through our advanced CNC machine and careful raw material selection, we promise high-performing carbide burrs. They have the ability of tight tolerances in very many ways
Other than carbide burrs, Syndent designs other special cutting tools too. These include rotary files, die grinder bits, die grinder bits for hard steel, rotary file set, etc.
For quality carbide burrs and other Syndent cutting tools, you can simply contact us at any time for immediate feedback.