Syndent Carbide Deburring Bit Manufacturing Expert
More than 11 years of manufacturing experience
Manufacture your carbide deburring bit in advanced CNC machine
The best joint between sharpness and durable tool life
Fast dispatch within 1 week against your regular orders
Syndent Carbide Deburring Bit
For over a decade, Syndent continues to enormously produce highly durable and quality carbide deburring bit. We have more than 40 sets of advanced, modern CNC machines operated by our professional QA team.
Syndent also has an automatic brazing machine which makes the manufacturing process easier and faster. We can manufacture Syndent deburring drill bits according to your demand.
Syndent has the most popular and unique metal deburring bits in the market that helps you to cut or shape materials.
We succeed in helping you save costs so that your business can boom through quality Syndent carbide deburring bits. Based in China, Syndent can easily develop the most identical geometry to meet your needs.
Why Syndent Carbide Deburring Bit
Syndent carbide deburring bits provide many industrial uses and on several materials. You can opt to drill, deburr, cut, shape, clean, grind, polish, etc.
As one of the largest carbide deburring bits manufacturers in China, Syndent proudly supplies very sharp cutting tools. We can test for you, in our own labs, the tool's life, sharpness, etc. This guarantees you efficient and long-lasting carbide deburring bits for your various tooling demands.
Syndent rotary deburring bits effortlessly removes hard metal, steel, cast iron, etc. You can fluidly apply Syndent carbide deburring bits on copper, plastic, zirconia, ceramic, wood, etc. You make your tasks flow easily without resistance.
As your most trusted supplier of brittle carbide deburring bits, Syndent provides different modes of payment. These include popular options like TT, Western Union, MoneyGram, L/C, PayPal, etc. We even plan to add more based on your requirements. Because of various payment options, you can choose freely a convenient method and make payment.
Syndent guarantees you an effective after-sales service. We easily solve issues with any defective or ineffective delivery. We provide different communication options to reach us for all concerns. You can mail us, use skype, call or use WhatsApp to save on calling costs. Our customer care representative works around the clock. We can seek your problem in three working days.
Manufacturing
Testing
Catalog
Send Inquiry
Shipping
Material
Syndent will check the raw material specifications of carbide deburring bit before production.
Brazing
Syndent automatically brazes carbide deburring bit with silver in a low temperature.
Balancing
We must make the carbide deburring bit jumping test after brazing. The tolerance is less than 0.1mm
Bending
Syndent examines the hardness of carbide deburring bit shank after brazing and tests the bending strength
Shaping
Solid carbide deburring bit needs a shaping process from the carbide rod materials
Toothing
Syndent CNC grinds the carbide deburring bit teeth after the tests approved
Polishing
Syndent polishes the carbide deburring bit shaft, and its brazing position
Packaging
Syndent makes your logo on the carbide deburring bit, and stick your own label on the case.
Your Best Supplier of Carbide Deburring Bit
Syndent uses the United States welding equipment and technology to process durable carbide deburring bits. Through our very own R&D capabilities and Company's advanced CNC equipment, the concerned department tirelessly produces Syndent carbide deburring bits. In entire China, we alone solely develop as well as production equipment and rotary files.
Syndent adheres to people-oriented principle while we attach great importance to planning careers of our staff. We highly value teamwork and take note of their accumulated experience at Syndent. As core assets to Company, our highly skilled senior engineers ensure Syndent carbide deburring bits always appear rightfully in the industry. You, therefore, tune accordingly to Syndent rotary deburring tool.
Syndent purchase tungsten steel raw materials from top most supplying companies. They guarantee quality and stable deliveries from their own mines.
Syndent transforms the quality materials in producing durable and stable carbide deburring bits. Stable material delivery from state-owned enterprises ensures stable quality and delivery of high-performing Syndent carbide deburring bits.
Besides brittle Syndent carbide deburring bits, we supply die grinder stone bits, rotary burr set, die grinder bits for steel, die grinder bits for stainless steel, etc.
Feel free to send us your inquiry regarding Syndent carbide deburring bits now.
Carbide Deburring Bit – The Ultimate FAQ Guide
What Is Carbide Deburring Bit?
Carbide deburring bit is also known as rotary deburring bit. It is mainly employed for cutting, grinding, shaping, and excluding burrs, sharp edges, and surplus material (deburring).
We can say that the tungsten carbide bit is the most common use carbide burrs. For tool and jewelry making, sculpting, welding and grinding, and model engineering, engineers and metal fabricators used these carbide burrs that make their work easy and hassle-free.
Carbide deburring bits are often used on all metals, including chrome steel, steel, and aluminum.
Carbide Deburring Bits
How Does Carbide Deburring Bit Work?
A carbide rotary file is a rotating tool used to remove material. Carbide deburring bits are designed to rotate at a higher speed, allowing it to maneuver the material it is performing on.
Metal deburring bits are appropriate for shaping, deburring, and enlarging holes when operating with metal.
Working
What Are the Applications of Carbide Deburring Bit?
Carbide deburring bits, particularly tungsten carbide deburring bits, are used for numerous purposes within various industries, including:
Aerospace industry
Automotive industry
Dental industry
Metal sculpting industry
Metalsmith industry
Carbide burrs are employed in the following applications:
Applied to Multiple Materials
Syndent Carbide deburring bits are applied to various materials such as aluminum, forged iron, and steel.
You can find this carbide rotary burr that can use for the metal in different sizes and shapes with a variety of diameters, such as:
Elliptical
Cylindrical
Round
Stone Grinding
One of the unique features of a carbide bur is its sharpness, which can help an artist to make great artworks like sculptures.
Most people like this tool for stone grinding due to its vibration-free grinding process and handle made from durable chrome steel.
Hard Material Chopping
Carbide deburring bits are designed for chopping a wide range of materials such as:
Stones of all kinds
Wood
Steel
Aluminum
Brass
Bronze
Applications
Dental Burrs
Carbide burrs are manufactured from tungsten carbide and are three times stronger than steel. Due to the rigidity of the metal, they are preferably suitable for cutting work in the dental industry, such as:
Preparing cavities
Cutting through metal fillings
Shaping bone during dental implant surgery
Usually, dental burrs are of many types, including:
Diamond burrs:
These are most frequently used for Cutting through porcelain and polishing.
Carbide burrs:
These are used for preparing cavities for shaping bone, fillings, and removing old fillings.
Ceramic burrs:
These burrs are applied for adjusting acrylic pieces.
Steel burrs:
Steel burrs are used for removing dentin and cavity preparation.
Among all these dental burrs, carbide burrs are the most widely used burrs in the dental industry due to their extreme hardness.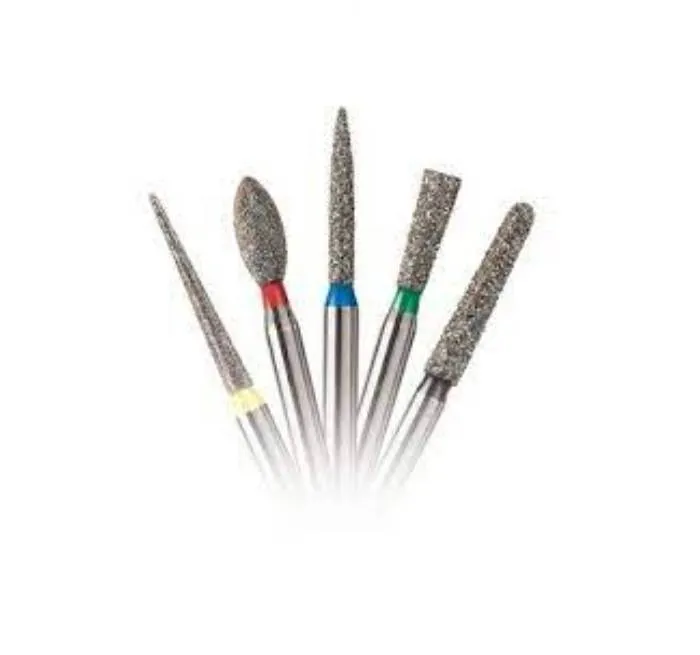 Dental Burrs
What Are the Different Shapes and Purposes of Carbide Deburring Bit?
The carbide deburring drill bit comes in different shapes. Each shape is specified for a particular function. Selecting a shape of carbide deburring bit depends on the profile or cut you want to achieve.
1.     Carbide Ball Burrs
A ball or spherical-shaped carbide burr is used to generate concave cuts in a material. It can also be used to shape and hollow out a specific area.
Carbide caving burrs can easily fit in micro motor, high-speed handpieces, and hobby drills. This feature makes it preferable for many metal-based artists, stone carvers, and wood crafters.
2.     Carbide Tree Burrs
It is used for rounding off edges and forming concave cuts. What makes this burr special is its pointed end that helps to cut sharp-angled contours and areas that are difficult to work. Carbide Inverted Cone Burrs
Inverted cone-shaped tungsten carbide burr is famous for making rear side chamfering and v-cuts.
3.     Carbide Pointed Cone & Carbide Round Nose and Ball Nose Burrs
If you are looking for a tool that can work perfectly on round edges, this carbide burr is a preferable option that helps to give surface finish in hard-reaching areas like angled contours.
This tool has a ball, or you can say round nose cones that are commonly known as tapered shapes.
4.     Cylinder Burrs (Round Nose/Ball Nose/End Cut)
You can find these cylinder burrs in various shapes. If you want contour finishing, it is recommended to go for an end-cut cylinder with a cutting edge on the end.
Cylinder without end cut is best for contour finishing and right-angled corners. It is flat on end and has no cutting edge. Cylinder burrs also come with a round nose or ball nose.
5.     Countersink Burrs
Countersink burrs that come in 60 degrees or 90-degree angles are mostly called carbide cone burrs. These are perfect for beveling, chamfering, counterboring, and getting into sharp-angled areas of your work.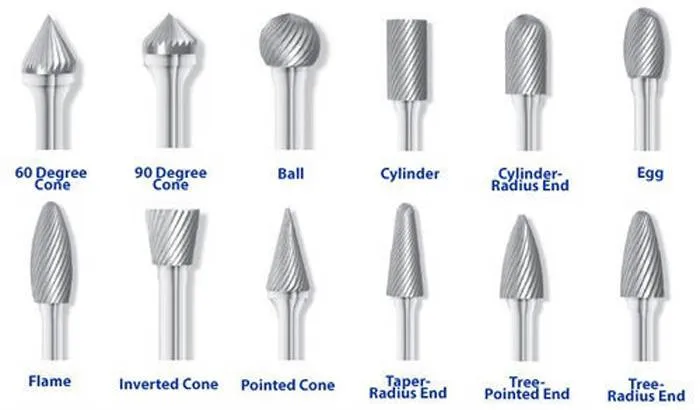 Shapes of Burrs
Types of Cuts:
Besides shapes, tungsten burs also come in two styles of normal cuts, including:
Single cut (one flute) carbide burrs
Double cut carbide burrs
1: One flute carbide deburring bits
One flute, commonly known as single cut carbide burrs, has a right-handed (left-handed is available) spiral flute. Such deburring burrs are used with:
Stainless steel
Toughened steel
Copper
Cast iron
Ferrous metals
One flute carbide burrs give a smooth finish after removing the material quickly. You can avail yourself some other uses from carbide burrs that come with a single cut like:
It is used for heavy removal of material.
Single cut carbide burrs are best for milling.
Deburring action can be efficiently performed with such burrs.
These burrs can be used for cleaning.
Single cut carbide burrs create extended chips.
2: Double cut carbide burrs:
Double cut carbide burrs are mostly used on the following metals:
Ferrous and nonferrous metals
Aluminum
Soft steel
All non-metal materials like plastics and wood
These carbide deburring burrs have more cutting edges. They remove material quicker. These double-cut carbide burrs are commonly known as Cross or Diamond cuts.
These files have two flutes cut across each other. They are preferable as they give a smoother surface finish due to making smaller chips as they remove away the material.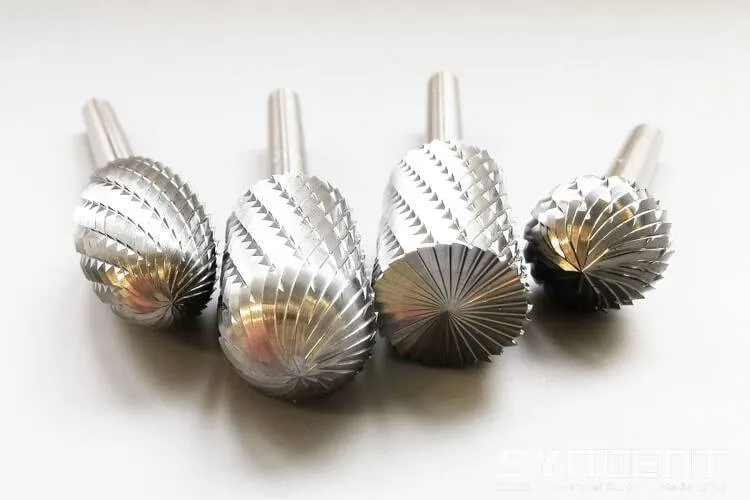 Double cut carbide burrs
A double-cut carbide burr is the most well-liked cut and will see you through various applications. Some common applications of it are as follows:
It offers medium-light removal of material.
It can also be used for deburring.
It provides fine finishing.
Cleaning can also be done with these burrs.
These carbide deburring bits provide a smooth finish.
They create small chips.
You can select the carbide deburring bit of your desired shape and with a suitable cut according to the requirements of your function.
In How Many Sizes Can I Get Carbide Deburring Bit?
The size of the carbide burr is determined by the size of its shank size. The shank is the base of your carbide burr that fits your die grinder, rotary tool, micro motor, etc.
It is the opposite point of the working part of the rotary tool. These are generally found in the following shank sizes:
1/16 inches
3/32 inches
1/8 inches
¼ inches
Carbide burrs mostly come with a ¼ inch or a ⅛ inch shank size where you can select the one which fits your drilling machine.
1/4 carbide deburring bit is best for most drilling purposes. You must select the appropriate sized carbide bit for your work to get better results.
What Is a Long Shank Carbide Deburring Bit?
The long shank carbide burr is used for deburring such positions where normal shank might be hard to reach. It is also known as long reach carbide burr.
At Syndent, you can get a high-quality long shank carbide burr. It can be used for deburring, finishing hard metal, grinding, and alloy steel materials.
Long Shank Carbide Deburring Bit
What Is the Use of Miniature Carbide Deburring Bit?
Miniature carbide deburring bit is designed for cleaning out material in an extensive range of products such as:
Wood
Plastics
Stainless steel
Double cut style of miniature carbide deburring bit is used for rapid material elimination in tough applications.
It has long tool life and faster cutting speeds. These small-sized burrs are an ideal choice when it comes to creating intricate designs on a decorative piece of wood or metal.
Syndent provides you with individual kits of miniature carbide files. You may get several burrs in a single pack to enhance the speed and beauty of your work.
It comes in numerous shapes, including:
Ball-shaped miniature carbide burr
Cone miniature carbide burr
Flame miniature carbide burr
Tree miniature carbide burr
Cylindrical miniature carbide burr
Miniature Burrs
Carbide Deburring Bit Is Suitable for Which Materials?
Carbide deburring bit is ideal for working on harder and softer metals equally. The best feature about these carbide deburring bits is that they are durable and work perfectly for a longer time period without braking and chipping.
You can apply this burr usually to the following materials:
Steel, Carbon Steel & Stainless Steel
Aluminum
Titanium
Cast Iron
Cobalt
Gold, Platinum & Silver
Nickel
Fiberglass
Ceramics
Brass, Copper & Bronze
Zinc
Plastic
Wood
What Is the Use of Carbide Deburring Bit in the Creative Industry?
The carbide bit is used for various manufacturing purposes and applications as well. Carbide burrs are mostly used for:
Wood carving
Jewellery making
Engineering and Model engineering
Metal making
Toolmaking
Chamfering
Deburring, Grinding, Welding
Casting
Cylinder head porting
Sculpting
It is also employed in the creation of fishing weights and various other mechanisms that need cutting and pulverizing. There are numerous enticements for using this, involving:
Recycling
Financial benefits
Longevity
How Can I Get Aluminium out of My Carbide Deburring Bit?
Sometimes during the removal of aluminum by carbide deburring bit, a minute quantity of aluminum metal is stuck in it.
This aluminium can affect the proper function of the carbide burr. You must remove it immediately. For removing aluminium from carbide deburring bit, you must apply these steps:
Initially, you must get as much aluminium out as you can by chipping it out.
Then put the carbide deburring tool in a container of muriatic acid.
Muriatic acid can dissolve the aluminium.
It does not harm the carbide, steel, brazing, etc.
Caustic soda sodium hydroxide/lye solution can also be used for this purpose.
What Is the Difference between HSS Burr and Tungsten Carbide Deburring Bit?
In general, a carbide deburring bit is formed from tungsten carbide, whereas the HSS burrs are formed from High Strength Steel (HSS).
Tungsten carbide deburring bits are suitable when we use them for metalwork. Because of their severe hardness, they can be employed on far more difficult jobs and would not wear out, unlike High Strength Steel.
Tungsten carbide Burrs also execute greatly at higher temperatures as equated to HSS, so you can run them hotter and for a prolonged period.
These HSS burrs are not recommended for higher-temperature work options as they become too soft. You must always prefer tungsten carbide burrs for long-term performance at higher temperatures.
Tungsten carbide deburring bits are better than HSS burrs due to the following features:
It has a longer life than HSS burrs.
You can use Tungsten carbide deburring bits for long production runs.
It is best for high stock removal.
Tungsten carbide deburring bits are perfect for use on numerous hard materials.
It is best for finishing, carving, deburring, shaping, and smoothing welds, dies, forgings and molds.
Are there Tips to Minimize the Chances of Vibration while Using Carbide Deburring Bit?
For reducing the chances of vibration while using carbide deburring bit, you must follow the given steps:
Optimize the direction and tool path towards the machine's rotation to attain the most stable cutting results.
Prevent machining in directions where the workpiece is poorly supported. For this, you must ensure that your workpiece is appropriately supported on the workbench.
Up milling can minimize the vibration tendencies when fixtures and workpieces are fragile in a particular direction.
Furthermore, you must avoid milling forcefully. Putting unnecessary pressure on the burr may cause kickback actions.