Cone Carbide Burr Manufacturing Expert
Leading manufacturer of cone carbide burr over 11 years.
41 sets of 6 axis CNC machine promise fast shipping
Brazing with silver material upon USA technology
Laboratory certified high grade tungsten carbide material
Syndent Cone Carbide Burr
Syndent cone carbide burr is widely used across many industries for grinding, deburring, cutting, engraving, drilling, etc.
You can use Syndent cone carbide burr in mold making, foundry, aerospace, automotive, dental Labs or clinic, wood engraving, jewellery, and so on.
Syndent manufactures all kinds of cone carbide burr for more than 11 years.
Whether you are a small distributor or a large distributor, Syndent will do its best to meet your requirements and help your business grow higher.
Why Syndent Cone Carbide Burr
Syndent produces cone carbide burr with the ISO9001 certified tungsten carbide materials. This cone carbide burr is also known as SM carbide cone shape burr, or simply as SM type Burrs.
Syndent cone carbide burr has a variety of applications for grinding or deburring narrow contours, like gear teeth, heat exchanger fan blades, inside bevel edges, internal pipe edges, etc.
The smallest size cone carbide burr will be mostly used in dental, jewellery, or carving fields. The bigger diameter of more than 6mm cone carbide burr will commonly suitable for industrial fields. But Syndent can supply you with all of the above cone carbide burr sizes.
Syndent recommends you lower the rotary speed when you using the upper half of the cone carbide burr. It is helpful for you to have a better finishing and longer tool life.
Manufacturing
Testing
Catalog
Send Inquiry
Shipping
Material
Syndent will check the raw material specifications of cone carbide burr before production.
Brazing
Syndent automatically brazes cone carbide burr with silver in a low temperature.
Balancing
We must make the cone carbide burr jumping test after brazing. The tolerance is less than 0.1mm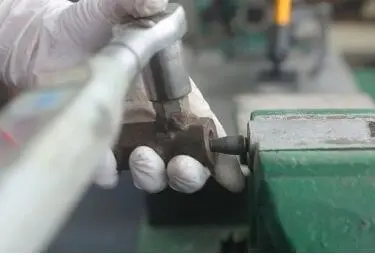 Bending
Syndent examines the hardness of cone carbide burr shank after brazing, and tests the bending strength
Shaping
Solid cone carbide burr needs a shaping process from the carbide rod materials
Toothing
Syndent CNC grinds the cone carbide burr teeth after the tests approved
Polishing
Syndent polishes the cone carbide burr shaft, and its brazing position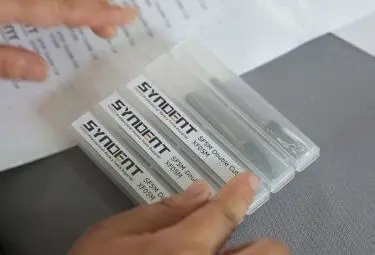 Packaging
Syndent makes your logo on the cone carbide burr, and stick your own label on the case.
Your Best Supplier of Cone Carbide Burr
Syndent uses the USA brazing technology and advanced CNC equipment. That makes your cone carbide burr keep the highest quality performance. Our quality control persons make the test for every piece of cone carbide burr. You will have the most reliable and durable cone carbide burr from Syndent.
Syndent cone carbide burr comes in many types, including taper radius cone carbide burr, pointed cone carbide burr, inverted cone carbide burr, flat end cone carbide burr, etc. Also, we Syndent can custom special shapes as you wish.
Besides cone carbide burr, Syndent also has tree shape carbide burr, carbide ball burr, cylindrical carbide burr, oval burr, and so on. Ask for the full range of Syndent burr catalog if you like.
Get an instant quote for Your next cone carbide burr order!
Cone Carbide Burr: The Complete FAQ Guide
Industries across the globe use carbide burrs to do different things on different materials. You can fluently remove steel, cast iron, hard metal, etc. with ideal carbide burr. The cone carbide burr in our case features a lot of uses. It has same uses like the countersink. Many industries use the cone carbide burr in chamfering, accessing acute-angled places, counterboring and beveling.
Syndent's manufacturing group uses one of kind CNC machine to produce unique cone carbide burrs in large stocks.
What is Cone Carbide Burr?
Cone carbide means a type of grinding tool that offers the same functions as the countersink. Cone carbide features sharper flutes designed using K25 material. They have either single or double flutes suitable for different tasks. The single flutes run along with the diameter head while the double flutes cross each other.
Used for:
Chamfering inner holes
Reaching acute-angled places of a workpiece
Counter-boring
Beveling
Large industries worldwide use Syndent cone carbide burrs because of durable working efficiency.
They feature wide uses including:
Metal working
Jewelry making
Engineering
Wood carving
Sculpting
Cylinder-head porting
Model engineering
Deburring
Casting
Grinding
Can You Use Cone Carbide Burr in Different Applications?
Yes.
Cone carbide burrs give several uses applied by various industries.
Syndent designs various cone carbide burrs that industries use in machining, deburring, polishing, stock removal, cleaning, etc.
Cone carbide burr helps us achieve the following:
Shaping
Syndent designs unique and durable cone carbide burrs that several industries find useful on multiple materials. You can effectively shape an object with cone carbide burr by removing stock. You can therefore make designs of your choice or even shape an object with an ideal cone carbide burr.
Grinding
In daily operations, industries have to grind materials to desired smoothness. They use cone carbide burrs to do such tasks for better results. Syndent continuously manufactures quality cone carbide burrs with advanced hardness. Made from cemented carbide, the ideal burr also has extreme toughness that offers effective performance.
Because of cutting edges with a sharp tooth, the cone carbide burrs cut through materials like blades.
They possess high-speed capabilities that help in the continuous grinding of a specified pieces of material. This helps you make shapes or designs you really desire.
Cutting
Before you work on any material, you need to have the right size. Therefore, you need to cut the material into pieces you can easily manage. Syndent cone carbide burr has cutting edges that work in the same way as sharp blades. Because of this, you can effectively and easily slice specific materials in whatever size you want.
Syndent cone carbide burr offers precision cutting of materials in smaller dimensions, sizes or shapes.
Deburring
Another important thing you can't miss in an industry when working on materials includes deburring. With an ideal cone carbide burr, you can comfortably modify any workpiece.
To deburr a material means to remove particular sharp edges or burrs using a suitable cone carbide burr. Syndent cone carbide burr can fluently extract the burrs or sharp edges on a workpiece. This leaves you with an attractive and smooth finer finish on a material surface.
Enlarging holes
Cone carbide burr helps in enlarging the depth and size of a hole in a workpiece. Syndent makes cone carbide burrs with different head diameters and shank sizes. They help in increasing hole-depth and size on a particular material surface.
Material removal
Quality cone carbide burrs help in the fluent removal of materials like aluminum, soft and hard metals, cast iron, etc. You can control cone carbide burr in achieving easy tasks on many material surfaces.
Syndent produces a highly versatile cone carbide burr, applicable with many functions. Therefore cone carbide burr acts as a multi-purpose equipment in most industries.
Which Tools Works Well on Cone Carbide Burr?
Syndent designs cone carbide burrs that fits on most rotary tools. Mostly, you fit cone carbide burr on die grinders but different industries fit them on other rotary tools.
Sometimes they fit them with Pneumatic machines. Also, you can fit on high-speed engravers and the Pendant Drills, Hobby Rotary as well as Micro Motors.
Useful note: The workpiece you work on must run true always when using cone carbide burr on die grinders.
Which Materials Does Cone Carbide Burr Work On?
You can ideally do most functions with cone carbide burr on very many material surfaces. Syndent cone carbide burr gives maximum control so that you work on most particular hard or even soft materials.
You can precisely work on:
All types of plastic
Hard/soft wood
Ceramics
Brass
Bronze
Gold
Copper
Silver
Platinum
Aluminum
All type of Steel
Cobalt
Cast Iron
Nickel
Fiberglass
What Makes Cone Carbide Burr Work Efficiently on Many Materials?
At Syndent, the team responsible for manufacturing cone carbide burr selects grade carbon and tungsten materials. The materials involved meets international standards and goes through a special CNC machine through a careful and thorough process.
Working with grade compounds ensures that the team produces a top-notch cone carbide burr with advanced toughness.
When combined, carbon and tungsten produce quality alloy. The kind of alloy produced can withstand hot temperatures for quite some time. Also, it resists pitting, rust or common scratches.
Besides toughness, Syndent cone carbide burr has a great hardness. The two features compare to the quality of quality diamond burr. Also, it has great density, which makes material cutting quite easy.
Because cone carbide burr has several useful features, you can enjoy lengthy performance before it wears out. Syndent carbide burr guarantees a finer finish with a smoother working experience. We design cone carbide burrs for domestic and international use at competitive prices.
Can You Have Coated Cone Carbide Burrs?
Yes.
Syndent can design coated cone carbide burrs. The different coating found on Syndent cone carbide include:
TiN, a ceramic coating that gives the cone carbide burr hardness. It makes the burr last longer
TiAIN, a mixture of titanium, Aluminum, and Nitrogen. The ideal coating gives the burr high oxidation and heat resistance
TiCN, a thin-film coating developed from Titanium Nitride. The coating offers a slight hardness than TiN coating and provides a slight low friction coefficient in most applications.
LTE coating
Can Cone Carbide Burr Cut and Shape Stone?
Yes.
Ideally, you should use a diamond burr to cut and shape stone. However, Syndent produces cone carbide burrs with different coatings. An ideal coated cone carbide burr can therefore cut and make shapes from a given stone.
Cutting stone and making shape out of it requires a lot of patience and concentration than most materials. Take care of the cone carbide burr against the possibility of burning up.
Alternatively, you can find router bits with a special design. Made with grade materials, the ideal router bits fluently cuts stones and lets you make shapes with extreme perfection.
Can You Cut Glass with Cone Carbide Burr?
Yes.
Although not the right tool.
Some industries use cone carbide burr to cut glass in the desired shape. Syndent cone carbide burr has a unique design with advanced hardness and density. This lets you cut the glass or other materials, leaving an excellent finish.
Safety note: Always use gloves to avoid cut injuries caused by sharp glass. Shield your face with a face shield to avoid sharp pieces getting into your eyes. When used on glass, the cone carbide burr tends to burn, which requires close attention.
Can You Use Cone Carbide Burr on Wood?
Yes.
Syndent has cone carbide burrs with different flutes and shank sizes. One of the major uses includes cutting. With quality cone carbide burr, you can cut wood, shape accordingly, and apply a fine smooth finish.
Wood engravers and sculptors in different industries use Syndent cone carbide burrs on wood because of their efficiency.
Can Cone Carbide Burr Cut Steel?
Yes.
In metal fabrication industries, you can cut metals like steel with a cone carbide burr. Manufactured from blended carbon and tungsten, Syndent cone carbide burr has toughness with a great hardness that helps you cut steel. It has three times greater strength than steel, allowing it to easily cut steel.
The high efficiency of Syndent cone carbide burr works better than High Speed Steel burrs. If, for example, you use any HSS burr under extreme hotness, the burr grows soft easily. However, Syndent cone carbide burr guarantees longer working efficiency even under extreme hotness.
Who Uses Cone Carbide Burr?
Most industries you visit worldwide use cone carbide burrs to manage multiple tasks and applications.
The list features:
Mechanics in cylinder head-porting
Wood engravers
Engineers
Dentists in dental laboratories and clinics
Welders
Tool-makers
Metal workers
Model engineers
Thus, cone carbide burr plays important role in:
Aerospace
Metalsmith industries
Stone industries
Automotive industries
Dentistry
Can You Use Cone Carbide Burr in a Drill?
Yes.
Many metal engravers, wood and stone carvers widely use cone carbide burr in hobby drills. When using a hobby drill, ensure that the particular handpiece doesn't wobble. It must run true.
Greater drilling demands you use the single cut cone carbide burr. Syndent single cut carbide burr produces better results because of long chips.
What Advantages Comes Along with Cone Carbide Burr?
Cone carbide burr has long-lasting life
Works efficiently for better results in extensive production
Efficiently removes stock
Provides both smaller and longer chips
Helps in achieving finer smoothness
Enhances perfect operator control
Fluently works on many material surfaces
Should You Use A Lot of Pressure When Using Cone Carbide Burr?
No.
For a long-lasting cone carbide burr, manufacturers don't recommend using too much pressure. Only a little or sufficient pressure can make cone carbide burr have a better life and improves its overall efficiency.
When you apply excess pressure on the cone carbide burr, the tool wears out very fast and material surfaces smoothen prematurely. Also, the cutting edges of the flutes of the cone carbide burr chips away easily, hence unable to work efficiently.
Are Raw Materials Used in Cone Carbide Burr Safe to Environment?
Yes.
Consumers who use Syndent cone carbide burr have no reason to worry about materials used in the tool. We use high-grade solid carbide material that has no negative effects to consumers. Syndent QA team takes cemented carbide and together with iron rods, they produce other welded products.
The original cone carbide burr has a combination of iron with solid carbide. When you hand over worn-out cone carbide burr to Syndent recycles them to useful tools used in different ways. Therefore cone carbide burr has no negative effects on the environment.
Do We Have Different Types of Flutes of Cone Carbide Burrs?
You can find cone carbide burrs in different types differentiated by the flute type. Quality control system at Syndent inspects the quality of every type of cone carbide burr produced.
Standard Flute Types include:
Single cut Cone Carbide Burr (#3)
Single cut has single spiral flute that goes along the cone carbide burr. The right-handed up cut tends to efficiently handle tasks on materials like all-steel metals, cast iron, copper, etc. It removes material rapidly and leaves a smooth finish.
Ideal for:
Milling
Deburring
Creation of long chips
Cleaning
Deburring
Double Cut Cone Carbide Burr (#6)
The double cut cone carbide burr has a unique design with 2 flutes that crisscross each other. Unlike single cut, Syndent double cut cone burr produces small chips and leaves a smoother finish on the material surface.
You can perform different tasks on ferrous metals and hard materials as well as non-ferrous metals and non-metal materials. They possess greater cutting edges to remove material rapidly.
Ideal in:
Deburring
Medium-light material removal
Creating smaller chips
Smooth finish on a material surface
Cleaning
Fine finish
Aluminum Cut Cone Carbide Burr (#1)
Syndent designs aluminum cut cone carbide burr specifically for non-ferrous materials. The burr aggressively removes stock on specific handpieces with much ease and comfort.
Syndent also provides Special Flute Types including:
Coarse Cut Cone Carbide Burr (#5)
Corse cut applies on soft ferrous material. Removes material on all non-ferrous metal alloys, producing smooth and finer finishing.
Fine Single Cut Cone Carbide Burr (#3)
Designed for any hard material and metal and gives your material surface fine finishing.
Foundry Cut Cone Carbide Burr (#8)
Ideal for rough edges, maximum stock removal as well as foundry applications.
Diamond Cut Cone Carbide Burr (#4)
Ideal for operations on very hard materials like stone, glass, etc. Diamond cut provides the best material surface finish and wonderful operator control.
Chipbreaker Cut Cone Carbide Burr (#3SP)
Chipbreaker cut cone carbide burr removes stock on the material surface faster and has improved control. Also, great for surface finish.
Fast Mill Cut Cone Carbide Burr with Chipbreaker (#1SP)
Removes stock rapidly on all soft ferrous materials.
How Should You Use the Cone Carbide Burr?
We advise you to use cone carbide burr on the correct job and the right way for a long-lasting life. The first thing to consider is your safety before you start any operation with the tool. Position the cone carbide burr firmly in a rotary tool's collet and the handpiece tight on the workbench.
Next, start working on your handpiece with the minimum force for effective performance. Minimum force promotes long-life of the burr and reduces unnecessary chipping.
Never apply extra force when doing specific tasks on different materials with a cone carbide burr. This reduces its life and promotes poor smoothness.
Therefore, use minimum pressure only for an enhanced life of cone carbide burr. This helps in achieving desired results in many demanding tasks and in hotter conditions.
Do We Have Different Cone Carbide Burr Head Diameters?
Yes.
Basically, we have Syndent SJ & SK Cone carbide burrs designed with different shank lengths and head diameters.
SJ has the following different diameters and lengths:
Tool

Number

D1(mm)
L1(mm)
D2(mm)
L2(mm)
SJ-42
3
2.5
3
38
SJ-1
6
5
6
50
SJ-3
9.5
8
6
53
SJ-5
12
11
6
56
SJ-6
16
14.5
6
59
SJ-7
19
17.5
6
62
SJ-9
25
24.5
6
69
SK comes in the following shank lengths and head diameters:
Tool

Number

D(mm)
L1(mm)
D2(mm)
L2(mm)
SK-42
3
1.5
3
38
SK-1
6
3
6
50
SK-3
9.5
5
6
50
SK-5
12
6
6
50
SK-6
16
8
6
53
SK-7
19
9.5
6
54
SK-9
25
12.7
6
57
Which Way Can You Use to Fit Cone Carbide Burr Correctly in Die Grinder?
You can fit Syndent cone carbide burr on rotary tool including die grinder. To fit cone carbide burr firmly and correctly into die grinder, use a wrench. Using a wrench guarantees the cone carbide burr fits into a grinder firmly.
You need to pair a cone carbide burr with the right die grinder for efficiency and easy control. Manufacturers usually provide a user manual that can guide you on how you can pair with a burr bit. Correct fitting minimizes the chances of early wear while promoting great overall performance.
How Do You Benefit When You Buy Cone Carbide Burr?
Cone carbide burr promises several benefits when you buy.
They include:
Cone carbide burr has great density, very tough, and with high strength.
Syndent produces durable cone carbide burr from tungsten and carbon. Naturally, the two materials have greater density and feature advanced hardness toughness. Syndent uses grade compounds with international standards requirements. This makes it difficult to wear out when used for a long time and performs in hotter conditions.
We produce cone carbide burrs in different shank lengths and head diameters to suit every customer's choice.
Both SK & SJ type cone carbide burrs come in many options for various job demands.
You can grind, deburr or cut a given material cost-effectively with the ideal Syndent cone carbide burr.
Ideally, Syndent cone carbide burr gives you a lot of freedom to do any function on a material surface with ease. Therefore, cone carbide burr helps you I saving big when bought in large amounts.
Cone carbide burr provides a versatile way to do tasks. Basically, it allows you to do many applications with desired results.
Cone carbide burr offers an improved efficiency to perform many of the functions you have. Because it has relative sharpness, you find efficiency in doing some of the hard tasks.
How Do You Manufacture Cone Carbide Burr?
At Syndent we aim at producing cone carbide burr with several useful features, to handle many applications. The ideal cone carbide goes through strict and intense production process. QA team at Syndent ensures that the ideal burr conforms to international standards, suitable for consumers.
The cone carbide production process features carbide, the main material. Carbide mainly has two compounds: Tungsten and carbon. During the production process, we focus on a final meticulous cone carbide burr.
The production process features:
Raw Material Evaluation
The final product always depends on the beginning, thus, material evaluation plays a great role in determining the end product. Here, the warehouse manager and other Syndent employees inspect raw materials before anything else.
During the inspection, they pay attention to international standards. If the carbide conforms to the requirements, the manager allows them to the warehouse to kick-start the production process. We use high-grade carbide.
Brazing
In brazing, we use two materials, silver and cone carbide burr. We braze them at reasonably low temperatures but uniformly.
Balancing
In balancing, we jump-test the uniformly brazed materials in the previous stage. We aim at achieving certain tolerance of the cone carbide burr which should range from 0.1mm and lower than that. When we achieve this, we move to the next level.
Bending
A cone carbide burr that reaches this level must have a very strong shank. We apply a bend on the shank. Bending tests, the strength of the burr's shank that can handle tasks subjected to.
Shaping
We design burrs in different shapes and this is a level that helps us determine cone carbide burr's shape. We grind the elements of carbide uniformly to get the exact shape we want.
Toothing
We differentiate different cone carbide burrs and other burrs by their unique identities which we do at a toothing level. Our ideal cone carbide burr deserves sharp blades in form of teeth. We also determine the flute type of the burr. Therefore, we pass the cone carbide burr in the CNC machine to grind them to the required teeth or flutes.
Polishing
This appears our second-last stage before packaging. Thus, we smoothen our cone carbide burr and then polish it. We also add abrasive since our product appears almost finished.
Packaging
We package our cone carbide burrs appropriately after ensuring they conform to all production requirements. We make sure they have our Syndent logo for easy identification by consumers.
How Can I Remain Safe While Using Cone Carbide Burr?
Safety remains a priority regarding you and the tool you use. Before you use the cone carbide burr, follow all the necessary guidelines so that it doesn't cause you any harm. You should as well make sure that you use it correctly without breaking it.
For long-lasting cone carbide and own safety, use these tips:
Allow the cone carbide burr to seat properly in the collet. Clamp the burr firmly
Secure the workpiece firmly in the workbench
You should not snag at the same time jam the cone carbide burr when tasking
Exert minimum force and let the cone carbide burr do its work. Allow the highest material to come first
Wear the right protective equipment for the safety of your hands and face
Which Unique Features Should You Look When Considering A Quality Cone Carbide Burr?
The market has several types of cone carbide burrs and choosing a perfect tool can sometimes prove a difficult task. Syndent cone carbide burrs have unique useful features that differentiate them from imitators.
A quality cone carbide should help you meet the specific demands of your workpiece.
Some of the important features include:
Meticulousness – Ensure the cone carbide burr you choose has a meticulous design. Meticulously designed cone carbide burr goes a production process that conforms to quality international industrial standards.
Syndent always ensures cone carbide burr delivered to you passes the whole production process. During the process, the burr receives its form and has all the required details to fulfill its purpose.
Durability – Syndent produces highly durable cone carbide burrs that can serve its purpose. The burr has all useful features to handle necessary tooling conditions.
High-Temperature Tolerance – Good cone carbide burr should perform any task for longer even condition grows hot. Syndent cone burr always performs well in hot temperatures and for the longest time possible.
Weight/ Versatility – An ideal cone carbide burr has the ability to perform in many different ways. This can save you a great deal in budgeting for different tools each for a different task.
Also, the weight of the cone carbide burrs matters a lot in the way it performs. You can easily and efficiently operate a lightweight cone carbide burr than a heavy one. Syndent cone carbide burr offers perfect user control and efficiency because of the lightweight nature.
Accuracy & Stability – To acquire precision in cutting specific material and great output, you need an accurate and stable carbide burr. Syndent cone carbide burr always has the stability to produce great accuracy on any workpiece.
The ideal cone carbide burr works to minimize possible precision errors.
Strength – Although a good cone carbide has a lightweight feature, it should perform to any tooling condition. Thus, it should feature enough strength, high density with extreme hardness. Syndent cone carbide burr can cut, grind any tough material surface, producing quality output.
You can machine any work level because of high strength, density, and great toughness. This allows you effectively work at any work level, simple or hard.
How Do You Correctly Clean Cone Carbide Burr?
Like any other tool, cone carbide burr requires cleaning after each use for continued great performance. When you use cone carbide on any material apart from cast iron, parts of the workpiece clogs into the burr. Clogged materials reduce the efficiency of the cone carbide burr.
You can clean cone carbide burr in two different ways, based on the workpiece you work on.
Cone carbide burr clogged with aluminum deposit takes a simple and straight forward method of cleaning. First, with the best of your ability, remove the aluminum deposit from the cone carbide bur manually by chipping. For perfect cleaning, dip the cone carbide burr in concentrated muriatic acid. This permanently dissolves all the remaining aluminum deposits and leaves the burr sparkling clean. This method removes aluminum deposits only and not dissolve carbide or brazing.
You can also apply sodium hydroxide with caustic soda in removing the deposits.
Also, you can clean cone carbide burr by ultrasonic method. Ultrasonic cleaning works well in removing all deposits on a cone carbide burr.
To use an ultrasonic method, secure the cone carbide burr in a block/holder to minimize breaking possibilities. Run the cone carbide burr in enzymatic or cycle cleaner for about 10 minutes and above. Then rinse well with cold water for more than two minutes to give the burr a sparklingly clean look.
Useful note: When you work on cast iron, the material de-clogs the residues on the cone carbide burr.
What Cone Carbide Burr's Average Lead-Time Influences Production?
We have several things that can affect the lead-time production of cone carbide burr.
They include:
Standard Designs: Cone carbide burrs with standard design takes the least time to produce. They have the simplest production process.
Those with complex production processes take a longer time to produce.
Syndent adjusts CNC machine according to the kind of production, some cone carbide burrs takes longer while other shorter time.
Customized Demands: The process of producing complex cone carbide burr demands several adjustments to machines. Thus, cone carbide burrs of this nature take more production time.
Order Quantity: Order quantity goes along with delivery time. The amount of cone carbide burrs you order with Syndent, greatly determines the time you receive your order. Large quantities require a lot of time to prepare all the documentation and packaging. We deliver your order slightly late than those ordered in small amounts.
Pending order: Sometimes Syndent handles a bunch of several orders, inline waiting for shipment. If yours come in later, your wait follows the queue until an appropriate time.
You can still apply for a rush order at a fee but you don't wait longer as long as you arrange earlier.
Can My Cone Carbide Burr Have an Artwork?
Yes.
As long as you provide the artwork of your choice, our experts can make prints on the cone carbide. This should happen during the production process and specifically after polishing. Our experts can as well suggest the best artwork or improve on the existing one.
Why Only Syndent Cone Carbide Burr?
Syndent has the experience of excellent and recognized production of the cone and other carbide burrs worldwide. We use a historic 6 Axis CNC machine in producing quality cone carbide burrs according to international industrial standards. Syndent cone carbide burrs have the greatest performances on very many materials.
Before we ship the cone carbide burr to your location, we test to observe the quality.
Besides cone shape, Syndent can also supply flame burr, oval burr, SF 5 Carbide Burr, etc.
To receive an instant quotation from us about quality cone carbide burr, feel free and contact us anytime.