Manufacturer of Fiberglass Router Bit
More than 11 years manufacturing experience
Manufacture your fiberglass router bit in advanced CNC machine
Pointed supplier of FORTUNE 500 companies
Strict quality control during every manufacturing process
Syndent Fiberglass Router Bit
Syndent fiberglass router bit, also called router burr, is made with top-level solid carbide materials.
Our fiberglass router bit is ideal for cutting through fiberglass, carbon fiber, fiber cement, drywall, resin, FRP, GRP, and other composite materials.
Syndent manufactures fiberglass router bit in the past 11 years. We will supply the excellent quality fiberglass router bit for your business.
Why Syndent Fiberglass Router Bit
Syndent professionally designs fiberglass router bit for a wide range of cutting purposes in fiberglass and other composites. Either you need fast spiral fiberglass router bit, or low spiral fiberglass router bit, Syndent can manufacture the exact router burr as you request.
Syndent diamond cut fiberglass router bit comes in 4 popular types against the router burr top end. You can choose no end cut fiberglass router bit(type A), bur end fiberglass router bit(type B), end mill end fiberglass router bit(type C), or drill end fiberglass router bit(type D) in Syndent catalog.
You can custom the cut length of the fiberglass router bit. Syndent can produce the cutter length from 5mm(3/16") to 25mm(1"). Syndent fiberglass router bit total length ranges from 38mm(1 1/2") to 75mm(3").
For the fiberglass router bit speed, Syndent recommends you to use as follows.
Diamond Cut Carbide Burr Bit Speeds
Bit Diameter
Maximum Speed (RPM)
Up to 1″
24,000
1-1/4″ to 2″
18,000
2-1/4″ to 2-1/2″
16,000
3″ to 3-1/2″
12,000
Manufacturing
Testing
Catalog
Send Inquiry
Shipping
Material
Syndent will check the raw material specifications of Fiberglass Router Bit before production.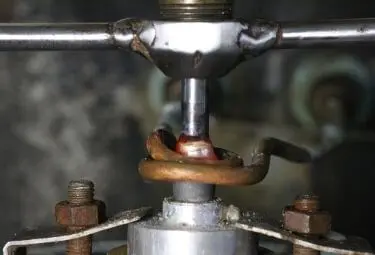 Brazing
Syndent automatically brazes fiberglass router bit with silver in a low temperature
Balancing
We must make the fiberglass router bit jumping test after brazing. The tolerance is less than 0.1mm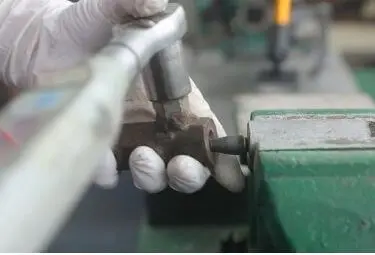 Bending
Syndent examines the hardness of fiberglass router bit shank after brazing, and tests the bending strength
Shaping
Solid fiberglass router bit needs a shaping process from the carbide rod materials
Toothing
Syndent CNC grinds the fiberglass router bit teeth after the tests approved
Polishing
Syndent polishes the fiberglass router bit shaft, and its brazing position
Packaging
Syndent makes your logo on the fiberglass router bit, and stick your own label on the case.
Your Best Supplier of Fiberglass Router Bit
As the professional carbide burr manufacturer, Syndent makes the fiberglass router bit with advanced CNC machines. It ensures your fiberglass router bit has a long time, easy cutting, and a good finishing advantage.
We have more than 11 years of historical experience. Syndent regards quality and reputation as our life. Our quality control system ensures that each of our processes can be traced back. It ensures you can always have a stable high-quality fiberglass router bit.
Syndent fiberglass router bit is excellent for all your fiberglass cutter applications, and the best source for all kinds of router burr bit needs.
Get an instant quote for Your next fiberglass router bit order!
Fiberglass Router Bit: The Ultimate FAQ Guide
For the past 11 years, Syndent has successfully manufactured and supplied Fiberglass Router Bit to different industries worldwide. Companies use them differently to professionally cut, grind, smoothen, etc. on materials like Steel 40-55 Rc, nickel chrome, wood, and other materials.
Also known as router burr, Syndent designs fiberglass router bit mainly used for cutting fiberglass as the name suggests.
What is Fiberglass Router Bit?
Fiberglass router bit refers to a kind of bit made using solid carbide that majorly cuts fiberglass at fast speeds.
End users also call it simply as FGR series router bits. Syndent has the below series numbers for your choice.
FGR-1, FGR-1-1, FGR-2, FGR-3, FGR-4, FGR-5, FGR-6, FGR-6-1, FGR-7, FGR-8, FGR-9.
Other materials you can use fiberglass router bit include:
Carbon fiber
Drywall
Resin
Fiber Cement
GRP
FRP
Other composites
Syndent produces top-quality fiberglass router bits that provide long tool life and cuts at greater speeds. The solid carbide component in the fiberglass router bit makes it extremely hard hence very brittle.
They offer:
Cleanest cut on fiberglass and other materials
Good finishing
Removing contours
Drilling
Processing
Widely used on composite material in:
Cutting industry
Engineering
Wood work
Grinding industry
Sculpting industry
Can You Apply Fiberglass Router Bit in Many Ways
Yes.
You can find different uses of fiberglass router bits in many industries in China and the rest of the world.
Syndent professionally designs fiberglass router bits used in cutting composite, grinding, drilling, polishing, etc.
Industries that use fiberglass router bits can do the following on composite material:
Cutting
Ideally, Fiberglass router bit was purposely designed to cut fiberglass. We also mentioned that the ideal fiberglass can slice composite materials like carbon, drywall, resin, GRP, FRP, etc. You can cut any composite material into pieces small pieces for easy management.
The sharp teeth of router burr have cutting edges, sharp as blades which cut composite materials easily like butter. Using the correct cut style, fiberglass router bit cuts pockets, slots, and edges of your handpiece.
Shaping
Fiberglass router bit also helps you make desired shapes on fiberglass and specific composite materials. You can shape the edges of fiberglass and given composites mentioned above. Designed to operate at greater speeds, you can effectively shape materials or undoubtedly make great designs from composite materials.
Grinding
Besides shaping, cutting, and other uses, you can as well grind fiberglass or composite material to achieve desired smoothness. Syndent traditionally produces quality fiberglass router bits with extreme hardness from cemented carbide material. They also have enough strength to grind composite materials, providing effective performance.
Made in different files, the sharp flutes, in the form of cutting edges, grinds your fiberglass or other composite materials. You can effectively grind all the sharp edges off the material for better results. Regarding the common metals grinding, you are advised to use the carbide burr tool that is more suitable for all kinds of hard metals.
The fiberglass router bits operate at very high speeds which you can comfortably and continuously grind materials.
Removing Material
Other than cutting or shaping fiberglass, you can pull out larger chunks of materials from your workpiece. In such a case, a standard or normal fiberglass router bit dulls more readily, pulling larger material chunks from workpiece.
Enlarging holes
You can create holes on a workpiece with fiberglass router bits to increase the indent and depth of the hole. Diamond cut carbide burr bits come in different bit diameters. Syndent produces bit diameters of up to 1", 1-1/4" to 2", 2-1/4" to 2-1/2", and 3 to 3-1/2". This can guide you in achieving different sizes and depths.
Can You Use Fiberglass Router Bit on Rotary Tools?
Yes.
Generally, fiberglass router bits operate at extremely faster speeds. They pass through a highly rigid set up of CNC machines that makes them hard to break. Therefore you can comfortably attach the router bit on rotary tools like hand router, router table, or CNC machine.
Helpful note: When using a fiberglass router bit on a rotary tool, your handpiece must always run true.  The bit should fit well on the rotary tool. Let your tool do its work or else the fiberglass can fray. If your fiberglass router bit becomes dull, the fiberglass also frays.
Which Materials Can Fiberglass Router Bit Use On?
Syndent design fiberglass router bit purposely for use on fiberglass.
However, industries can extend the use of the bit to several composite materials like:
Fiber cement
Resin
Drywall
GRP
FRP
Carbon fiber
Ceramic, etc.
What Makes Fiberglass Router Bit Effective to Handle Tasks on Composite Materials?
QA team at Syndent uses top-grade solid carbide raw materials to produce quality fiberglass router bits. With 11 years' experience, we always supply excellent high-grade fiberglass router bits worldwide to sustain your business.
Our professionalism in producing high-quality rotary burr guarantees the manufacture of fiberglass router bits using advanced CNC machines. As for the router burr, you can have long time performance, easy cutting with perfect finishing benefits.
Syndent fiberglass router bits feature top-grade solid carbide compounds. Solid carbide has extreme hardness characteristics with high hardness. They run work at high speeds and cuts rapidly other than offering prolonged tool life. The extreme hardness makes fiberglass router bits highly brittle, unable to break easily.
Designed in four different popular styles of A, B, C, and D in Syndent's catalog, you have freedom of choice. Besides, Syndent can easily customize a fiberglass router bit's cut length appropriately. You can get a cutter length of 25mm (1") from 5mm (3/16"), etc.
Apart from high strength and great hardness, Syndent always offers fiberglass router bits that have greater density. Thus, cutting fiberglass and specific composite materials becomes quite easy and comfortable.
Fiberglass router bit doesn't wear out easily, provides lengthy performance experience, and has multiple uses. You can confidently cut composite materials and do other tasks. Syndent produces fiberglass router bits for quality working experience domestically and internationally at highly competitive prices.
Can an Ideal Fiberglass Router Bit Cut Wood?
Yes.
Although designed to cut fiberglass efficiently, industries that deal with wood cut composite wood like plywood.
Composite materials like ply wood have permeable features, making them extremely hard to hold. Meaning, you need a clever technique accompanied with a delicate cutting approach.
We highly recommend using a fiberglass router bit on the edges of your plywood which works fine. Otherwise, the plywood's glue sometimes makes the router bit go dull easily than when used on solid wood.
Take into account precaution measures when using fiberglass router bit on ply wood. Since the router rotates at high speeds, it can easily damage your ply wood.
Make sure you clamp the piece of composite wood into place to stop movement.
Can You Drill Materials Use Fiberglass Router Bit?
Yes.
You can ideally use fiberglass router bit to drill composite materials. The D type fiberglass router bit drills and makes random cutting and can as well grind specific materials. D type fiberglass router bits have a pointed end that allows you to easily plunge cuts.
The D type fiberglass literally looks somewhat like a drill. This allows you to plunge straight deeper into a given composite material without stopping until you achieve desired depth.
When drilling your workpiece, always ensure you clamp it firmly. This helps the workpiece from wobbling when you use the fiberglass router bit to drill through it.
When you want to drill, plunge the fiberglass router bit straight down in your handpiece. Maintain the same direction to achieve the right size of the hole. The router bit rotates at faster speeds and can damage your workpiece quite easily, therefore take care.
Drilling fiberglass with fiberglass router bit can consume most of your time to achieve a perfect hole. A larger router drill bit creates high chances of chipping and requires precious time and patience.
What Advantages Can You Have While Using Fiberglass Router Bit?
Made from hard and tough solid carbide that makes it last longer
Offers efficiency even in high production, giving better results
Fluently cuts, grinds, and drills most composite materials
Removes material on flat material surfaces
Ideal for all fiberglass cutter needs
Provides you with great operator control
Operates at very high speeds
Do Fiberglass Router Bits Made of Solid Carbide Hard Compared to Steel?
Yes.
Logically speaking, Syndent fiberglass router bits have a greater hardness than any other steel. This implies that they hold longer edges of between 10 and 25 times more. Most industries prefer them because of their brittleness and the ability to resist high heat. This helps the bits from breaking when exposed to extended use.
Even the carbide-tipped bits of fiberglass router bits are long-lasting, they require maximum handling and great care.
Can You Find Different Types of Fiberglass Router Bits?
Yes.
Syndent produces different fiberglass router bits which industries widely use in various cutting duties on fiberglass and several composites. You can choose no end cut, burr end, end mill end, or drill end to fulfill all your cutting needs.
No End Cut Fiberglass Router Bit
Also known as the A type fiberglass router bit. The router burr makes perfect contour finishes on fiberglass or any other composite material. It also removes materials from flat surfaces.
Bur End Fiberglass Router Bit
The B type fiberglass router bit enables you to remove contours and suitable for working in right-angled corners.
End Mill End Fiberglass Router Bit
The C type fiberglass router bit lets you process grooves, terraces, and other uses on composite material.
Drill End Fiberglass Router Bit
The Drill end or D type fiberglass router bit lets you make perfect drills on fiberglass or other composites. Also, you cut, grind, etc. randomly with this type of router bit.
Does Fiberglass Router Bit Fit in All Routers?
Not really.
A router usually has a nonadjustable chunk where you can correctly fit the fiberglass router bit shank. Standard fiberglass router bits range from 1/4" to 1/2″ shank sizes. You can only fit 1/4″ fiberglass router bit into a smaller router collet. Larger routers collet accepts both sizes of fiberglass router bits.
Which Technique Should You Apply When Using Fiberglass Router Bit On Composite?
For pleasing results and best performance of Syndent fiberglass router bit, allow the tool to do its work. You only need to guide it so that it drills or cuts in the desired direction. Excessive use of pressure causes the fiberglass router bit to wear out faster.
Therefore, for the improved overall efficiency of the tool and precise cutting, follow correct procedures. Also, to avoid the flutes from chipping, store the fiberglass the correct way.
Does Fiberglass Router Bit Raw Materials Cause Harm to Environment?
Absolutely.
Consumers who buy Syndent fiberglass router bits should not have any cause of alarm. Raw materials Syndent use to produce fiberglass router bit doesn't affect the environment. Our QA team combines iron rods alongside cemented carbide to make quality welded products.
Basically, solid carbide combined with iron forms a quality fiberglass router bit. With used up or ineffective fiberglass router bit to us, we make many other useful products for other applications. Thus, you can comfortably use a fiberglass router bit without worrying about the environment.
Which Speed Limits Can You Use With Fiberglass Router Bit (RPM)?
Better routers have speed adjustment that lets you adjust sped accordingly, between 8,000 and 24,000 RPM. The reason for this is because not any router optimally or safely runs at the same speed.
Larger fiberglass routers consist of larger mass and have the potential of vibrating at greater speeds. An outer perimeter of say 3-1/2" diameter fiberglass bit cutting surface actually travels significantly quicker. It operates at 24,000 RPM compared to 1/2″ fiberglass router bit cutting surface.
The table below can guide you on the maximum speed applied on each fiberglass router bit diameter produced by Syndent.
Diamond Cut Carbide Burr Bit Speeds
| | |
| --- | --- |
| Bit Diameter | Maximum Speed (RPM) |
| Up to 1" | 24,000 |
| 1-1/4" to 2" | 18,000 |
| 2-1/4" to 2-1/2" | 16,000 |
| 3" to 3-1/2" | 12,000 |
Note that, a maximum speed of a given fiberglass router bit refers to its maximum speed of operation. This however doesn't mean you can safely apply the speed when operating the fiberglass router bit on a router.
Generally, we can conclude that operating at faster speeds provides better performance than at lower speeds. For a simple reason, faster speed gives a more and precise cut per inch. More cuts/inch usually yields desirable smoother cuts.
What Factors Should You Consider In Determining Best Speed on a Given Fiberglass Router Bit?
For the safety of any fiberglass router bit, only use recommended speed when operating the tool. Correct speed allows the good performance of the router bit and its lifespan.
For the best speed and good performance, consider the following factors:
Horsepower of the router for the task. Router operating at low power automatically slows when driving a much larger fiberglass router bit on a given cut
Feed rate
Condition and quality of the fiberglass router bit. Syndent, through 11 years of experience, always makes quality router burrs for the tasks.
Cutting properties of a material. Syndent fiberglass router bit head has extremely sharp flutes made out of grade carbide. The material has great strength and hardness and with sharp blades, it cuts composite material easily.
In brief, sharp, top quality fiberglass router bit and perfect feed rate partners with bit's speed to make clean cuts.
Again, applying extreme speeds with Syndent fiberglass router bit produces undesirable rough cuts. Very slow speeds cause burnishing effect with burn marks on your composite material.
Always remain within recommended speed limits while using the fiberglass router bit on given composite materials.
Who Uses Fiberglass Router Bit?
A diamond fiberglass router bit can grind the inside of the small curves of your workpiece.
Commonly used in:
Woodworking
Cutting and shaping fiberglass
Carbon fiber industry
Fiber cement industries
Most composite material industries
What Technique does Best help in Correctly Fitting Fiberglass Router Bit In a Router?
Commonly used in portable drills and routing machines, you can add shape and profile to a composite material edge. Manufacturers usually give user manuals that guide on how to fit the fiberglass router bit.
A portable drill or router machine usually has a collet. When fitted on a relevant tool or machine, a collet holds the shank of the fiberglass router bit. When fitting on a portable drill, firmly fitted with a range.
You need a correct and firm pairing for easy control and effective performance. This also promotes the life of the fiberglass router bit to a greater degree.
What Do You Benefit When You Use Fiberglass Router Bit?
When you buy a fiberglass router bit for domestic or industrial use, you benefit from the following:
Syndent manufactures a strong quality fiberglass router bit that has more strength and toughness.
We produce highly durable fiberglass using top-grade carbide, carbon, and tungsten mixture. The combination of the compounds produces high density, desired strength, and more hardness. The raw materials conform to international industrial standards. Syndent fiberglass router bit tolerates extreme hotness when at a task.
Syndent fiberglass router bits come in varied head diameters and shank lengths, suitable for your own choice.
Diameter selection includes 1", 1-1/4" to 2", 2-1/4" to 2-1/2" or 3" to 3-1/2, helpful in meeting any job demand.
We produce specific fiberglass router bits to cost-effectively cut or grind your composite material.
This means you have lots of freedom to do anything on your workpiece easily and comfortably. You can save more when you buy our fiberglass router bits in plenty.
Syndent ensures you receive a highly versatile fiberglass router bit. Actually, it helps you fulfill any task for an outstanding finished workpiece.
Syndent fiberglass router bit offers much-improved efficiency in handling all tasks needed on composites. The flutes have relative sharpness that helps you in finding the necessary efficiency to do soft or hard tasks.
Which Steps Do You Use to Manufacture Quality Fiberglass Router Bit?
Syndent focuses on producing quality fiberglass router bits with many useful features to effectively complete your tasks. We always adhere to an intense as well as a strict manufacturing process.
We have the best CNC machine operated by our QA team. During the production process, Syndent follows international industrial standards. Thus, you can only buy from us a high performing, durable and quality fiberglass
The main material used in the production of fiberglass router bit includes carbide that has two compounds: tungsten and grade carbon. We focus on achieving a final meticulous product, fit for consumer use.
Syndent uses the following steps:
Evaluating Raw Materials
To have a useful and quality product, Syndent aims at a good start. By this, material evaluation plays an integral part in determining a good end product. Our warehouse manager guides the rest of the working team in inspecting and selecting the right materials.
The final product should provide a competitive fiberglass router bit on the market at all times. After an assessment, the raw materials proceed to the immediate stage of manufacturing.
Brazing
We use relatively low temperatures to braze fiberglass router bit with silver. Syndent does the process uniformly.
Balancing
After brazing, Syndent performs a jumping test to the fiberglass router bit. In this process, our fiberglass router bit must acquire the required tolerance of within 0.1mm or lower. This leads us to the next step.
Bending
Syndent has to examine the fiberglass router bit shank's hardness after brazing. Hence, we bend the shank to guarantee us that the bit's shank can manage tooling tasks.
Shaping
This process plays an important role in fiberglass router bit as it determines the ideal shape from carbide rod raw materials. Syndent uniformly grinds carbide elements to give the fiberglass its real shape.
Toothing
Fiberglass router bits have unique identities because of the toothing process. Syndent gives different fiberglass router bits deserved sharp blades commonly known as bit teeth. This helps in differentiating A type from B type, C type from D type, etc.
Syndent grinds fiberglass router bit teeth with computerized CNC machine after approving tests.
Polishing
Before packaging, we polish the fiberglass router bit. We smoothen the shaft and polish the brazing position.
Packaging
Syndent packages fiberglass final product after meeting all manufacturing needs. We place a relevant logo that consumers can easily locate them.
How Do You Maintain Safety When Working With Fiberglass Router Bit?
When using our products, Syndent demands remaining extra cautious and observing care of the tool. The router usually rotates at very great speeds and if not handled firmly or correctly, can damage your workpiece.
Besides, a mishandled tool can cause great injury to yourself or people around your operational area. Therefore, take few precautions to avoid such outcomes either way.
The following few steps can add value to yourself and the fiberglass router bit:
Insert the fiberglass router bit perfectly in the router's collet. Then clamp the bit firmly to retain its position
Secure your composite material into a workbench
Don't snag and also don't jam the fiberglass router bit while tasking
Guide the router so that the fiberglass router bit works in the exact position. Allow it to perform its duty, with just a little press Work with the highest material first
Use protective clothes, boots, gloves and face shield or goggles to avoid possible injuries
Which Special Features Does A Quality Fiberglass Router Bit Have When Looking for One?
While some features look absolutely impossible to determine with your naked eyes, you can look for some things. You cannot conclude the hardness of the best fiberglass router bit or its quality by just a mere look.
In selecting a quality fiberglass router bit for cutting or grinding a composite material, you need observation and practice.
The features mentioned below can greatly help in choosing a quality fiberglass router bit:
Meticulousness – Before laying hands on any fiberglass router bit, look for a meticulously designed bit. Syndent's CNC machine and professionally trained staff instill all the international standards a quality bit should have.
Strictness in production assures that Syndent router bit doesn't miss any production level. In the entire process, our computerized machines feed all necessary details to the router bit. It gives assurance of receiving a fiberglass router bit mandated to fulfill the purpose designed for.
Durability – A fiberglass router bit you buy should have durability features. We process highly durable router bits that respond to tasks appropriately with minimal wear.
High-temperature Tolerance – Always look for a fiberglass router bit that performs to the maximum even when temperatures grow to extreme. Syndent fiberglass router bits guarantee the best performance at extreme hotness. You can still cut or grind for a longer time than you can do with bits made from other materials.
Weight/Versatility – Look for fiberglass that can serve you more than just a single purpose. A bit of such caliber helps in saving some money in buying a tool for each function. Our fiberglass router bit performs different functions like cutting, drilling, grinding, etc.
When cutting, drilling or grinding fiberglass or other composite materials, the weight of the fiberglass router bit remains significant. You need a fiberglass router bit that you easily control to have desired results. At Syndent, we only produce lightweight fiberglass router bits, offering great user control.
Accuracy with Great Stability – For precise cutting, drilling, or grinding, you require a very accurate fiberglass router bit. And for continuous and great output, you need a stable fiberglass router bit.
Syndent combine the two features so that you can maximize both precision and great output. You minimize precision errors as you maximize output.
Strength – Although lightweight, your desired fiberglass should still give an outstanding performance. This defines an extremely strong, very tough, and high-density fiberglass router bit for all composites.
Syndent keenly observes all the features mentioned so that the fiberglass router bit functions at top level.
How Can I Correctly Clean A Fiberglass Router Bit?
After several applications, the fiberglass router bit accumulates dirt or baked-on deposits. When used continuously without cleaning, the cutting blades lose the cutting effectiveness. With persistence usage, the fiberglass router bit heats up rapidly. This can diminish the lifespan of the router bit.
Often times, clean the fiberglass router bit to get the best performance out of it. You can use chemicals to clean them but some have poisonous substances that require proper ventilation and gloves.
Using a home-based method seems the cheapest and easiest method that effectively cleans the fiberglass router burr. You can make use of readily available liquid laundry detergent. This gives surprising results.
First, try scrapping off the deposits manually from the bit. Then, prepare 1:1 home-based laundry detergent solution in a bowl of water. Soak the fiberglass router bit and leave for at least 10 minutes or so. Remove the router bit from the solution and with a toothbrush or plastic brush, clean the remaining dirt off.
The detergent acts by softening the baked-on deposits which get off easily with a brush. Finally, use a clean soft rag and thoroughly dry-clean the fiberglass router bit and store it correctly.
What Fiberglass Router Bit's Average Lead-time Affects Production?
Many things can affect average lead-time fiberglass router bit production.
They feature:
Standard Designs – Syndent designs standard and complex fiberglass router bits. Standard designs take little time to manufacture because of the easy and simple processing process.
Complex designs need more time hence take longer.
At Syndent, we set our CNC machine to suit different manufacturing processes.
Customized Demands – Complex fiberglass router bits take the most time to produce. Syndent, therefore, makes more machine settings to match such production. The bit of this kind requires extra time.
Order Quantity – Order quantity goes alongside delivery time. Order quantity of fiberglass router bit you make greatly impacts the time of shipping the order to your location.
In all cases, if you request many fiberglass router bits from Syndent, we document and package them before shipping. This eats some of our time as a result, the order takes a little longer before reaching you. Small quantity orders take little time.
Pending Orders – Sometimes we can have a bunch of orders we need to ship to relevant customers. If you make an order and we happen to have other earlier shipping arrangements, you can wait longer.
For faster deliveries when the queue appears longer, you can request for a rush order which you pay for. In such special case, always remember to make earlier arrangements with us.
Why Focus on Syndent Fiberglass Router Bit?
Syndent professionally manufactures quality, durable, and high-performing cutting burr. This puts us in a perfect position to produce useful fiberglass router bits with CNC machines. We manufacture the burr bit from top-grade tungsten carbide.
Syndent also offers one of the best after-sales services for risk-free business. We ensure you receive what you ask for. An excellent fiberglass router bit for fiberglass and composite cutter applications.
Syndent supplies other similar excellent products including die grinder bits for stainless steel, rotary file bit, rotary file set, etc.
For an instant quotation or any burning issue about our quality fiberglass router bit, contact us around the clock.