Syndent Grinding Burrs Manufacturing Expert
More than 11 years manufacturing experience
Manufacture your grinding burrs in advanced CNC machine
Same technology as USA made grinding burrs
Custom design is available for your test
Syndent Grinding Burrs
Syndent grinding burrs are quality tools with sharp cutting strength you can use for effective grinding purposes.
You can grind totally every type of material with high accuracy and with very fast action. Using our quality carbide grinding burrs, you can achieve long-lasting performance and reduce on labor costs significantly.
Syndent understands the industry well and can produce grinding burrs that meet international standards. We utilize modern CNC machines to process premium grinding burrs.
We use the USA-based welding technology and have done this for 11 plus years consistently. Through this, we have conquered a large customer base because of quality and long-lasting grinding burrs.
Why Syndent Grinding Burrs
Syndent grinding burrs can provide extensive uses on different materials with a long-lasting performance. Our grinding burrs carbide can grind hard steel, carbon steel, cast steel, stainless steel, steel, etc.
Also, you can effectively grind cast iron, aluminum, brass, zinc, platinum, copper, silver, etc. Besides, Syndent grinding burrs can grind non-metals. This includes any type of wood, zirconia, jade, stone, bone, GRP, CRP, fiberglass and more.
Thus, they suit industries like metalsmith, welding, dental, agriculture, shipbuilding, automotive, aerospace, etc.
Although specifically developed for grinding purposes, Syndent grinding burrs can also shape, cut, drill, carve, engrave, etc. You can grind hard and soft materials and complete your project faster than stipulated time.
Syndent ensures it achieves a neutral point of high durability and affordability with carbide grinding burrs. Syndent grinding burrs have extreme sharp grinding heads that promises high performance.
Besides, we ensure we put reasonable prices on our grinding burrs. Therefore, you have guaranteed cost performance with Syndent grinding burrs.
Syndent promises guaranteed after-sales services on our grinding burrs carbide. If you encounter a problem with our product, we can immediately answer to your plea. We issue quick feedback in three working days.
Manufacturing
Testing
Catalog
Send Inquiry
Shipping
Material
Syndent will check the raw material specifications of grinding burrs before production.
Brazing
Syndent automatically brazes grinding burrs with silver in a low temperature.
Balancing
We must make the grinding burrs jumping test after brazing. The tolerance is less than 0.1mm
Bending
Syndent examines the hardness of grinding burrs shank after brazing, and tests the bending strength
Shaping
Solid grinding burrs need a shaping process from the carbide rod materials
Toothing
Syndent CNC grinds the grinding burrs teeth after the tests approved
Polishing
Syndent polishes the grinding burrs shaft, and its brazing position
Packaging
Syndent makes your logo on the grinding burrs, and stick your own label on the case.
Your Best Supplier of Grinding Burrs
Syndent is amongst the largest developers of grinding burrs in China. Our company seats on a 2,000 square miles area. It holds a total of 41 fully automatic 6 axis CNC equipment and more than 40 experienced workers.
Therefore, we can produce several pieces of quality Syndent grinding burrs at a very short time. We can churn out and deliver your grinding burrs order on time.
Syndent consists of an established strong structure that warrants you a consistent solid supply chain of grinding burrs. Our company boasts of three influential co-founders formerly from state-owned enterprises.
They include the equipment maintenance engineer, business sales supervisor as well as a technical research and development engineer.
We also are amongst earliest Chinese companies to start using CNC machine to process grinding burrs. At the same time, we actively took part in conceptualizing Chinese Standards for Rotary File Industry. So, Syndent grinding burrs you buy are amongst the leading brands in the production industry.
Other than Syndent grinding burrs, we produce other similar products for massive industrial use. This includes carbide burr for steel, grinding bits, carbide burr sets for aluminum, etc.
Contact our customer care representative for quotations or any other inquiries.
Grinding Burrs – The Ultimate FAQ Guide
Chipping out rough metal edges has never been an easy task. Grinding burr is a must-have in your toolbox when it comes to metal grinding.
Read more to get the answers to your entire how's, what's, and if's. This article contains direct knowledge about a grinding burr.
So, let's get started!
What Are Grinding Burrs?
Grinding burrs are also known as grinding files or grinding bits. These are small-sized rotatory tools. A small shaft with a sharp flute head is all a grinding burr contains.
You can attach your rotary tool to different types of machines. However, the most suitable and commonly used device is the die grinder.
These small tools are simple, sharp, durable, and efficient.
How?
They can cut variable materials into small chunks. Whether working on metal surfaces or plastic, concrete or glass, carbide grinding burr removes unwanted material quickly.
Why did I mention carbide here?
The reason is that Syndent manufactures its high-grade rotary tools with the world's most rigid material, tungsten carbide.
Tungsten carbide makes grinding burrs strong, balanced, durable, heat-resistant, and wear-resistant.
Now that you know burr's structure, let's learn more about the various types and shapes available.
Tungsten Grinding Burr
What Are the Various Types of Carbide Grinding Burr?
Tungsten carbide grinding burrs are available in a wide range. By range, we mean:
Variable sizes of flutes and shank (length and diameter)
Variable head shapes
Numerous flute cuts
Open to customizations
Let's learn in detail!
Variable Sizes of Flutes and Shanks (Length and Diameter)
Syndent has a complete range of carbide grinding burr when it comes to sizes. You may get burrs having a shank length varying from 38 – 83mm (21/2" – 3").
Similarly, a wide variety in the flute length is available. The flute length ranges from 5 – 38mm (1/4" – 1/8").
In the same way, you can get grinding burrs in variable diameters. The flute diameter ranges from 1.5 – 25mm (up to 1"). The shank diameter is available in two standard sizes, 3mm and 6mm.
Various Shank Lengths
Variable Head Shapes
Here head means the flute. Syndent manufactures grinding burrs with various flute sizes and shapes. Some of the most commonly used carbide grinding burr shapes are:
Cylindrical
Oval
Round
Conical
Tapered
Tree-shaped
Tear-like head
Each shape is specified for a typical corner or surface.
Various Head Shapes of Grinding Burrs
Numerous Flute Cuts
Besides the shapes, Syndent's R&D staff keeps bringing innovations when it comes to the flute cuts.
Here you may find a complete range for heavy stock removal and sanding. You may get;
Diamond cut burr
Single cut carbide grinding burr
Double cut rotary file
Aluminum cut burr
Foundry cut
Fine single cut
Chipbreaker cut
Some of these cuts are suitable for rapid and heavy chunk removal. Similarly, others are suitable for removing dust-like material. These cuts are ideal for sanding and thus leaving the surface smooth.
Flute Cuts of Grinding Burrs
Open to Customizations
Besides the standard burr sizes and shapes, Syndent always fulfills your demands. You may get the burrs of your customized sizes and shapes.
Talk to our personnel or provide us with a draft. Syndent's staff and up-to-date machinery can create the burr of your dreams.
Now you might be thinking, how I can use these small tools in my workshop. The following topic might serve as a guideline for your query. Have a look!
What Are Die Grinding Burrs Used for?
Although the name says that it is a grinding burr, you can benefit from these tools in numerous ways.
How?
You can utilize a carbide grinding burr for:
Cutting:Cut the metal pieces or a wooden part into smaller ones
Deburring:Remove uneven edges of metal or other materials to make the surface smooth.
Shaping: You can get the desired shape by removing unwanted material.
Enlarging holes: Make or enlarge the existing holes.
Sanding: With the help of a diamond cut burr, you can remove tiny chunks. It is a quicker way for sanding than manual filers.
Carving: Create a masterpiece by carving wood, plaster, or ceramics.
Trimming: You can conveniently trim excessive material.
Grooving: Grinding burrs can also be used as router bits. You can make patterns or grooves with these bits.
Continue reading to learn how you can get the most out of your grinding burrs. Understandably, adequate procedures and tools are necessary for accurate results.
Grinding with Carbide Burr
How to Use Burr Grinder Together with Grinding Burrs?
Variable shank diameters allow you to use grinding burrs with multiple machines. However, a die grinder (air-powered or electric-powered) is the best rotary machine for tungsten carbide rotary tools.
Things to Consider
Always remember, your safety is the first thing to keep under consideration. For this reason, fix the burr into the collet before plugging in the power supply.
Clean the surroundings. Ensure there is no flammable material nearby.
You must fix the grinding burr tightly into the collet. Use a wrench for this purpose.
On the working bench, tightly fix the workpiece.
Working speed is mentioned in the guidebook of the die grinder. You must read the manual guide carefully as the rate varies with sizes and working materials.
After securing the workpiece, cleaning the surroundings, and fixing the burr, it is time to plug in the machine.
Start the grinder first. After that, place the rotating bit on the desired area.
With slight pressure, keep wiping the burr on the workpiece.
It is recommended that you keep your burr moving. Otherwise, it will remove more material than desired.
Working at a low speed may result in a clogged burr. Working at high speed may cause vibration and kick-back actions. Therefore, always work at the recommended rate.
When the burr gets cold, remove it, clean it, and store it in your toolbox.
Can a Metal Grinding Burr Cut Wood?
You can conveniently work on multiple surfaces with your metal grinding burr. One of these materials is wood.
If you are linked to the wooden industry, wood grinding burrs are a must-have for you. You can carve beautiful patterns and make sculptures with the help of these files.
The various cuts and shapes allow you to work on narrow and deep places, sharp edges, and angled corners.
The sharp flute cuts remove the wood chunks quickly leaving the wooden log smooth and reshaped.
Grinding Burr for Wood
Can I Make Sculptures with a Stone Grinding Burr?
Carbide grinding burr is a versatile tool that can work on multiple surfaces. Stone is one of them.
You can engrave a stone with the help of a stone grinding burr. Syndent guarantees efficient working of burrs due to the raw material we use. The wear-resistant tungsten carbide allows you to carve the stone in your desired manner.
So, why not create a masterpiece out of stone this time?
Grinding Burr for Stone
What Is a Grinding Burr Set?
A grinding burr set is a kit that contains various rotary files. These sets are available in different combinations.
For example, you may get 3, 4, 8, or 9 burrs in a kit. Standard sets that Syndent produces contain small burrs, double-cut burrs, and long shank burrs. However, you may get (on demand) customized sizes, shapes, and numbers of files in your grinding burr set.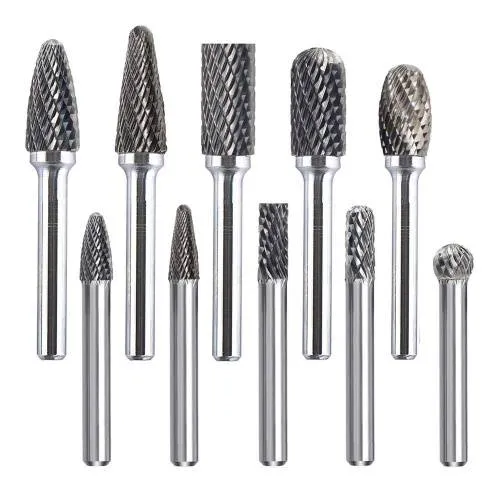 Grinding Burr Set
How Can I Clean a Grinding Burr for Aluminum?
Cleaning a grinding burr is not a problematic task – thanks to the K25/26 material Syndent utilizes. The anti-corrosive tungsten carbide, along with K25 material, allows you to clean your burr conveniently.
You can use caustic soda or acid to remove the clogged aluminum from the flute cuts. Dip the burr into the soda or HCL. Leave it for some time.
Ensure that only the flute is in the acid. Shank is not resistant to acid.
After some time, rub the flute with a stiff brush. Repeat the procedure if there is still some aluminum left in the cuts.
You can also use the heat to remove clogged aluminum. Heat will melt the aluminum, and you can remove the chunks by using a hard-wired brush.
What Is the Difference between Burr Grinding Wheel and Carbide Burrs?
Burr grinding wheel is a circular disc that has abrasive grits on the surface. These abrasive grits grind the metal/wood surface.
Grinding wheels are available in variable sizes, grits, and abrasives. You can choose the best-suited wheel according to the material you are working on.
At the same time, carbide grinding burrs are small stick-like tools that have sharp flutes at one end.
Burr grinding wheels are also available in steel discs. These discs do not have abrasives, rather they have small sharp cuts on the surface that allow you to grind and cut unwanted material.
These flutes are available in different sizes and shapes. You can choose the shape, cut, and size according to your workpiece.
The difference between the two is in their material and also the way they work. Grinding wheels cover a larger area with a plain surface. Working on corners with the grinding wheel is comparatively rigid.
On the other hand, rotary burrs can conveniently work on edges, angled corners, curved corners, or small areas.
You can enlarge holes with a grinding burr, but a grinding wheel can only work on flat surfaces.
Burr Grinding Wheel
What Is the Difference Between HSS Rotary Burr and Carbide Grinding Burr?
The main difference between the two is in their raw material. HSS means High-Speed Steel. These burrs are made with steel. On the other hand, carbide grinding burrs are made up of tungsten carbide.
Besides the raw materials, there are some other common differences. These are:
HSS rotary burr is not resistant to heat. Tungsten carbide grinding burrs are heat resistant. You can work for an extended period, and its sharp flute cuts will not lose their shape or sharpness.
Tungsten carbide files have a longer life span than HSS rotary burrs.
Talking about the cost, HSS burrs are comparatively cheaper than tungsten carbide ones.
Tungsten carbide is more challenging than steel. Therefore, the wear resistance is more in carbide burrs than in HSS burrs.
HSS V.S. Tungsten Carbide Grinding Burr
What Is the Use of a Diamond Grinding Burr?
Diamond grinding burrs are most commonly used in the dental industry. They are utilized in the placement of veneers and crowns.
These burrs are made up of stainless steel with diamond powder bonded, on the burr head, in variable grit sizes. You may choose the grit size and burr head size according to your need.
Diamond grinding burrs with various grit sizes allow you to cut faster. Similarly, finer grits leave the surface smooth and give a more polished look.
These two types are different in their functionality. The carbide burrs cut with the sharp small blade cuts on the flute, whereas, dental grinding burrs grind the tooth with the diamond grits.
After grinding the surface remains rough. You may polish it later for a smooth finish.
Diamond Grinding Burrs
How to Buy Syndent Grinding Burr?
Syndent works for your convenience. We not only provide you with high-quality products but also efficient services.
For us, your convenience is the priority. It is the reason Syndent simplifies the buying and selling procedures.
Here are some simple steps you may follow to get your desired grinding burrs. These are:
Ask for the Catalog
The first step is to ask for the catalog. Syndent has a full-range record at our facility and online as well.
You may have a look at it. In it, you will find a complete range of products with their features and specifications.
Tell Us the Item Number
Once you have seen and decided which burr you need, you may tell the item number to Syndent's customer services team.
Give the details of your order, like the sizes, quantity, and shapes of rotary bits.
The Best Manufacturer in China
Get Customized Items
If you cannot find an appropriate burr for your business, you can ask Syndent for a custom design.
The R&D team at Syndent brings innovations to the existing designs and creates a new and unique design for you.
For customization, you may provide us with a draft or give the details verbally by talking to the Syndent team.
Tell the team all the specifications you want, the shape, sizes, cut, and coating.
After the sample provision, you can approve the design so that our team may proceed.
Get the Rock Bottom Price from Us
Syndent values your investments. It is the reason we provide you with high-quality products at the lowest competitive prices.
No matter how big or small your order is, you may get your order at the lowest possible price. However, Syndent offers discounted prices and deals on bulk orders.
Get your order right now, and don't miss out on the chance to get the best products at the lowest prices.
Confirm the PI with Us
PI means the Profitability Index of your investments. The profitability index means the ratio between the initial investments and the present value of your estimated future profit.
Putting it simply, Syndent can guide you through your journey from investment to the fast ROI. We can provide you with the details and a complete index regarding your investment and cash flows.
So, stay connected and informed about the trending carbide grinding burrs.
Pay and Get
Lastly, you can choose the best-suited payment method. Syndent values your easiness. For this reason, Syndent gives you the flexibility to choose the best payment method.
After getting the contract done, you may get your grind burr consignment at your doorstep in the agreed time frame.
Shipping agencies serve Syndent on a priority basis. Syndent promises quick and on-time deliveries.