Pencil Grinder Bits Manufacturing Expert
More than 11 years of manufacturing experience
Manufacture your pencil grinder bits in advanced CNC machine
Free samples delivery for your test
Fast dispatch within 1 week against your regular orders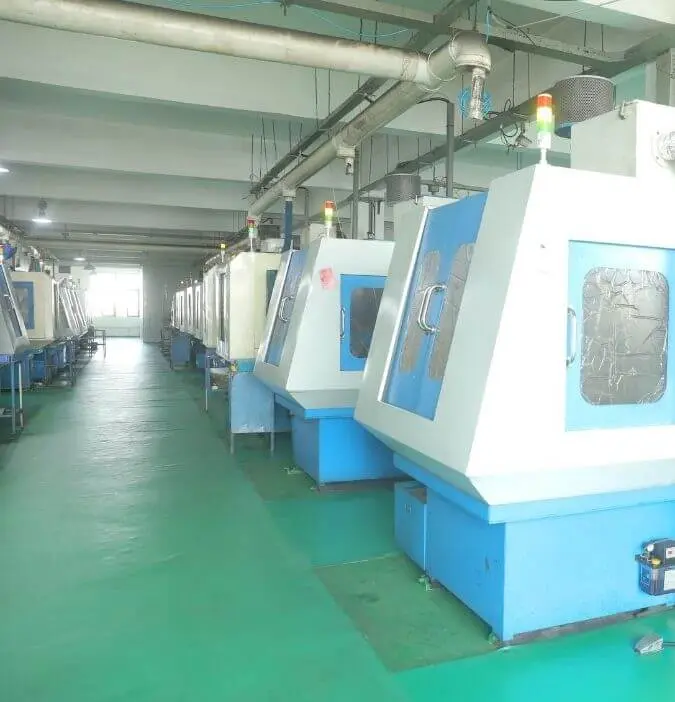 Syndent Pencil Grinder Bits
Your ideal quality Syndent pencil grinder bits have very many industrial uses. You can widely use them for light deburring, surface preparation, finishing, and deflashing.
We have the potential of manufacturing very many quality pencil grinder stone bits you want. For the past 11 years, we have processed for worldwide companies high-grade pencil grinder bits for exact needs.
Syndent always commits to manufacturing your useful pencil grinder bits with the advanced CNC machine. We also give you great after-sales services for your risk-free business.
You can confidently use Syndent pencil grinder bits on very many materials.
Why Syndent Pencil Grinder Bits
We manufacture pencil grinder bits in standard shapes which you can use on different applications. Also, you get desired number and size to meet most of your application demands.
You can efficiently use Syndent pencil grinder bits in cutting, cleaning, polishing, grinding, sharpening, engraving and carving.
We provide pencil grinder bits that you can undoubtedly use on both ferrous and non-ferrous materials. You can apply it on aluminum, ceramic tiles, glass, bookboard, steel, mirror, and so on.
At Syndent, we balance between long-lasting pencil grinder bits and competitive prices. You don't need to mind about the price and quality.
Whether you buy small or large quantity pencil grinder carbide bits from us, you receive deliveries on time. Through independent research and CNC development, we guarantee a very high continuous production capacity. This helps us meet delivery speed requirements for all of you.
With consistent and stable quality Syndent pencil grinder bits, you get confidence with our excellent quality performance.
Because of our 11 years of historical experience and honesty, our quality control system remains credible. Our quality control system works on a highly responsible process. This enables us to constantly provide stable top-notch pencil die grinder bits.
Manufacturing
Testing
Catalog
Send Inquiry
Shipping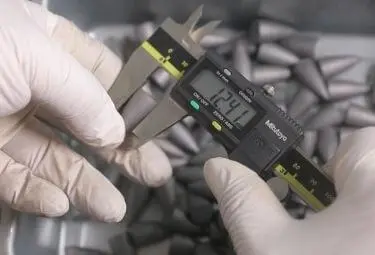 Material
Syndent will check the raw material specifications of pencil grinder bits before production.
Brazing
Syndent automatically brazes pencil grinder bits with silver in a low temperature.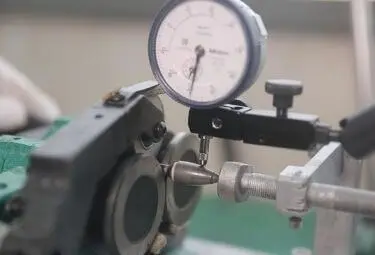 Balancing
We must make the pencil grinder bits jumping test after brazing. The tolerance is less than 0.1mm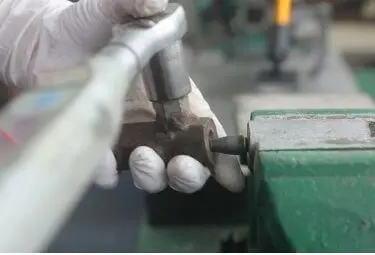 Bending
Syndent examines the hardness of pencil grinder bits shank after silver brazing, and tests the bending strength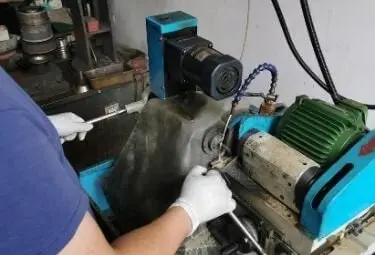 Shaping
Solid pencil grinder bits need a shaping process from the carbide rod materials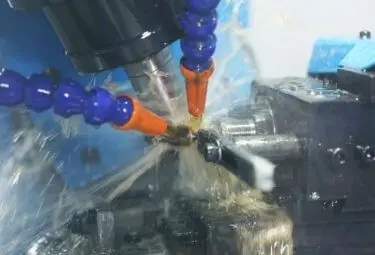 Toothing
Syndent CNC grinds the pencil grinder bits teeth after the tests approved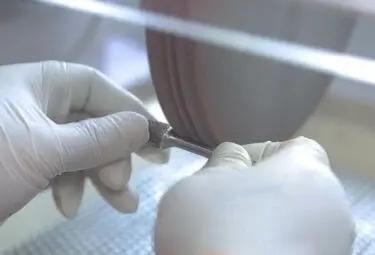 Polishing
Syndent polishes the pencil grinder bits shaft, and its brazing position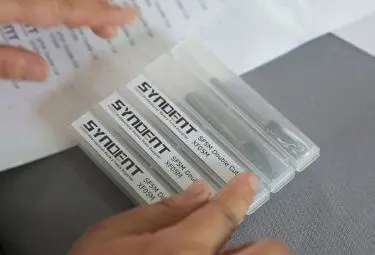 Packaging
Syndent makes your logo on the pencil grinder bits, and stick your own label on the case.
Your Best Supplier of Pencil Grinder Bits
Syndent Company features amongst the earliest factories in China that use CNC in processing pencil grinder bits. Founded by three people who brought about a very stable enterprise structure. As a result, you will get a great compact supply chain.
Also, we actively featured in the formulation of Chinese standards for the rotary file industry. Therefore, Syndent pencil grinder bits always fall in the leading level in the industry.
Syndent highly adheres to people-oriented principles and attaches great importance to employee career planning. Syndent skilled engineers always ensure the pencil grinder bits fit well in the industry. This helps you tune out the very best geometric parameters against Syndent CNC machine.
Responsibility to you remains our long-term development, Syndent offers a lifetime warranty on your pencil grinder bits. In case you experience issues with the equipment while using it, we freely and quickly make replacements. Therefore, you greatly concentrate on your customer development as you gain more market share.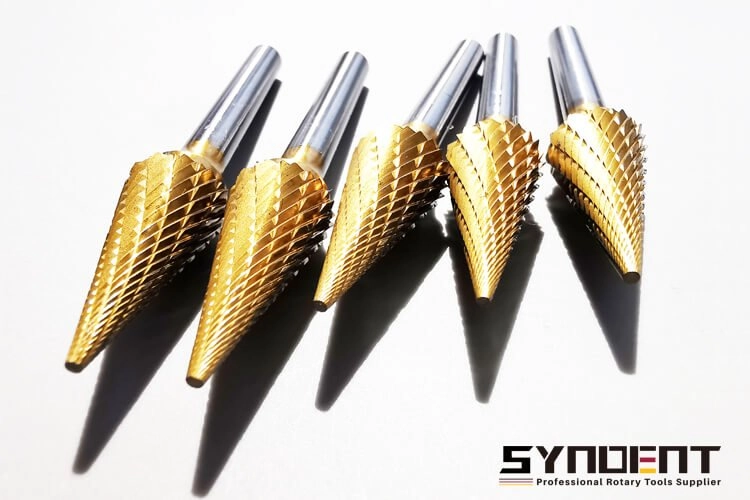 Other than high-quality pencil grinder bits, we also provide several other popular grinding products. They include die grinder bits for metal, die grinder bits for hard steel, or die grinder bits for stainless steel. In addition, we also supply die grinder bits for wood, die grinder bits for aluminum, fiberglass router bit, tungsten carbide cutter, etc.
For an instant quotation of your next pencil grinder bits, immediately send us your inquiry.
Pencil Grinder Bits: The Complete FAQ Guide
Do you want quality pencil grinder bits for your industrial needs? Do you look for the best manufacturer who can furnish quality tools?
Amongst Syndent quality tools include pencil grinder bits which have a lot of industrial uses.
At the end of this complete guide, you may find yourself in the best position to make the right decision. In addition, you will learn more pencil grinder tips. Follow us as we guide you through.
What Does Pencil Grinder Bits Mean?
Pencil grinder bits refer to tools that you can use for light deburring, finishing, surface preparation, cleaning, and deflashing.
Syndent die grinder bits appear in several standard shapes, used in different applications. You can have desired number as well as size that meets most of the application requirements on your workpiece.
Pencil grinder bits take the basic shape of a pen, hence the name pencil.
Syndent pencil grinder bits offer efficiency in cleaning, deburring, cutting, polishing, carving, sharpening, engraving, etc.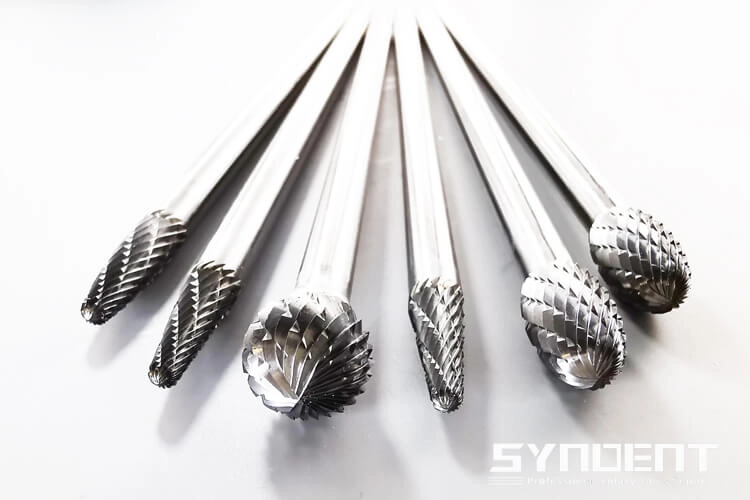 Our pencil grinder bits can undoubtedly produce a wonderful performance on both ferrous and non-ferrous metals. Also applies to both soft and hard materials with incredible and precise results.
With carbide steel material, which is extremely sharp and sturdy, you can process both metal and non-metal.
Syndent pencil grinder bits suit all skill levels. And an essential kit can help you clean up welds comfortably if you frequently work with metals.
Generally, Syndent grinder bits have perfect pair with both handheld and electric tools. Also, you can have a good combination of a pneumatic tool and several other automated tools.
You can easily grasp and use Syndent pencil grinder bits. Derived from tungsten carbide, the pencil grinder bits offer safe and reliable use.
Pencil grinder bits provide substantial uses in metalwork, model engineering, toolmaking, jewelry, and more.
Designed in inconsistent shapes, sizes, and flute styles, you successfully manage several jobs very fast.
You can come across the oval-shaped, cylinder, cylinder head cut, cylinder radius end, tree, taper, ball-shaped, etc.
Thus, you find a versatile way of doing more tasks than before with other tools. In return, you save your precious time and labor cost.
What Uses Do Pencil Grinder Bits Provide?
Made in China, Syndent pencil grinder bits offer you comprehensive uses regardless of the materials you have.
We supply to every corner of the world as a result of high efficiency and durability. Syndent pencil grinder bits go through our 41 sets of computerized CNC equipment.
We also apply the newest welding technology that we acquired from the United States of America. Syndent molds the grade tungsten carbide steel into a formidable long-lasting and sharp tool.
This gives our pencil grinder bits power to cut, shape, engrave, chamfer, deburr, grind, drill, etc.
Cutting
Using pencil grinder bits, you can cleanly make cuts on materials like steel, stone, wood, cast iron, aluminum, etc.
Top grade tungsten carbide steel provides maximum strength. The ideal raw material of tungsten and carbon combines hardness, sharpness and high density.
With such detailed features, Syndent pencil grinder bits give you excellent cutting performance on all types of metals and non-metals.
Grinding
As a basic function on various projects you handle, pencil grinder bits can grind your workpiece. Sometimes grinding can come as part of making finishes to your project.
To remove some of the ridges and rough formation on your piece of work, you can grind them off. Syndent grinder bits can give fine grinding for a smoother material surface.
Once you have used our pencil grinder bits, you won't do a retouch at all. You need a good pencil grinder bits selection to make finer smoothness.
Using pencil grinder bits with cross-cut flutes can smoothly and explicitly grind given material.
Deburring
Almost similar to grinding but deburring means smoothly removing ridges, contours, or small debris known as burrs.
Burrs occur on your workpiece after you do certain tasks like chamfering, cutting, shaping, sharpening, turning, engraving, etc.
Burrs cause unevenness on your material and greatly affect the final accuracy of your project.
To prevent errors in the final results, you need a quality tool and Syndent grinder bits fit in this position. After doing other jobs, you can deburr the workpiece with the same pencil grinder bits.
Shaping
Syndent uses masterful fabrication from micro-fine solid carbide steel raw materials. Tungsten carbide pencil grinder bits therefore strongly shapes material accordingly.
Made in special, standard, and popular sizes and shapes gives freedom of selection to fulfill material needs.
You can easily guide Syndent pencil grinder bits in shaping steel, stainless steel, wood, stone, aluminum, cast iron, etc.
Enlarging holes
Pencil grinder bits have individual useful shapes to choose from. With functions like drilling or enlarging holes, Syndent pencil grinder bits can do the job perfectly.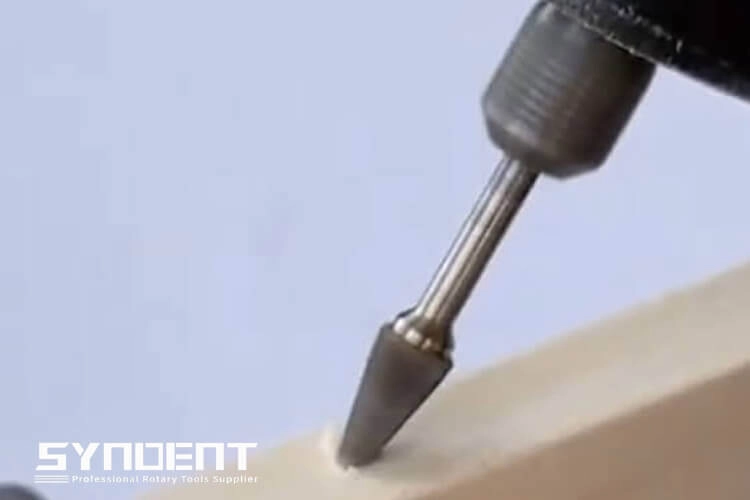 When you need to make drills or increase hole indent on your workpiece, choose the ideal flute style selection.
Use the sphere single cut pencil grinder bits to make in detail drills. Single cut removes heavy material and creates large chips.
For hole enlargement, you need the balls-shaped Syndent pencil grinder bits. The ball-shaped increases the hole perfectly and smoothly.
In an industry facing several jobs that need faster but accurate results in a cost-effective way use pencil grinder bits.
When you look at the few functions provided above, you can see its versatility. If you need projects on steel, cast iron, aluminum, zinc, wood or plastic, pencil grinder bits comfortably replace other tools.
Can You Coat Pencil Grinder Bits?
Yes.
Syndent pencil grinder bits can have different coatings like TiN, TiCN, TiAlN, or LTE.
TiN coating: simply refers to quality pencil grinder bits with Titanium Nitride coating. They provide better lasting performance, six times, compared to standard HSS drill bits. Have sharper and lasting cut with reduced friction.
TiCN coated: Refers to tungsten burrs with titanium carbonitride (TiCN) coating. They have better hardness ad provides a smooth finish. They have high resistance to chipping and wear and don't allow easy clogging.
TiAlN coating: Titanium-aluminum-nitride coating refers to an all-around form of coating. The coating usually features a thickness of about 1 to 4 micrometers. With such coating on the pencil grinder, you experience great resistance to oxidation and heat.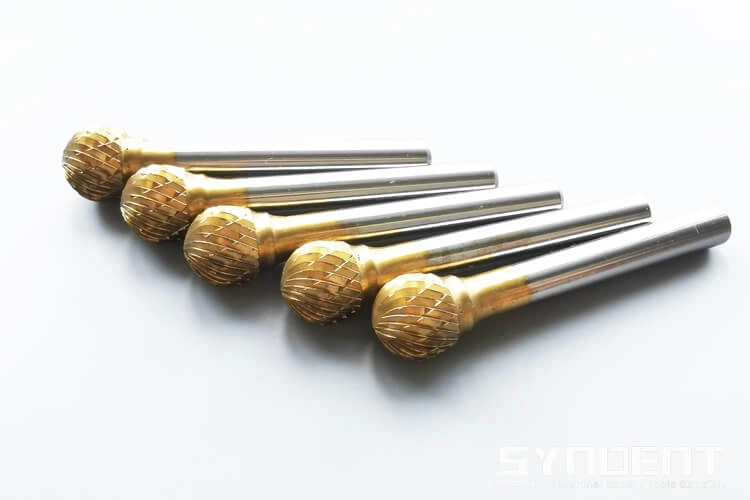 Do Pencil Grinder Bits Have Long Shanks?
Yes.
Syndent makes pencil grinder bits in different shank sizes for specific reasons.
Long shank carbide burr tool can grind areas other ordinary bits cannot easily reach. They give the flexibility and convenience of making explicit cuts, grinds, drills, etc.
We can as well customize the sizes according to your request. Work in the same manner as your ordinary pencil grinder bits but with the added advantage of an elongated shaft.
With long shank pencil grinder bits, you can masterly cut steel, aluminum, cast iron, zinc, platinum, wood, bone, etc.
Syndent long shank pencil grinder bits come in multiple cutting styles and shapes. Using the highest grade cobalt tungsten steel, can have a sturdy and sharp cut on metals and non-metals.
We provide different lengths like 6", with the rest between 3" (75mm) and 12" (300mm). All of the different sizes can fit a standard die grinder or any other compatible power tool.
The main uses of Syndent pencil grinder bits include tool making, welding, chamfering, milling, casting, and more.
Broadly applied in the aviation industry, brake shops, fabrication shops, industrial shops, toolmaking, metalwork, model engineering, and so on. We also have 1/8", 1/4″, and so on.
What is Metal Burr?
This simply refers to tiny materials, sharp edges or contours that appear on the material surface when doing your project.
Burrs normally happen when you do specific tasks like chamfering, cutting, shaping, turning, sharpening, machining, milling, drilling, etc.
To enjoy smooth working on your material, you can clear the burrs using appropriate pencil grinder bits.
Remember pencil grinder bits can only do light tasks but have strong stability.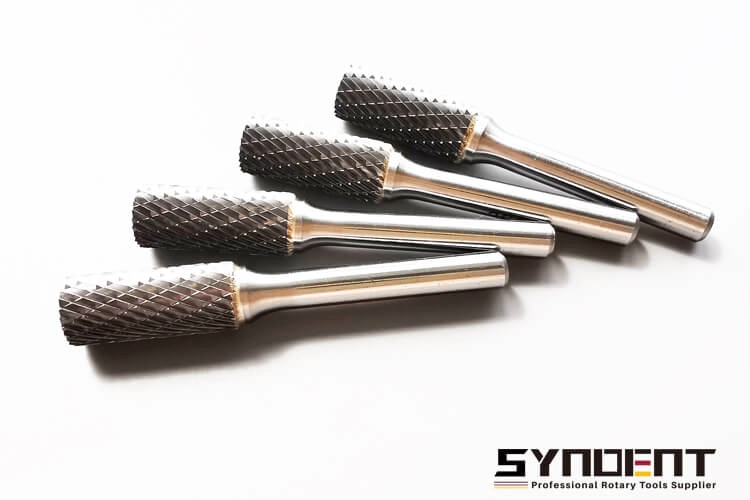 Which Process Can You Follow in Manufacturing Quality Pencil Grinder Bits?
Using 41 sets of computerized and highly advanced CNC equipment, Syndent uses a unique process.
We machine our quality pencil grinder bits from grade tungsten steel raw materials. The head features tungsten carbide while the shaft hardened steel.
Syndent observes the quality standards to manufacture pencil grinder bits highly accepted locally and internationally.
Material evaluation
Manufacturing pencil grinder bits begins after having the finest materials at hand from state-owned companies.
We evaluate the raw materials once received on time and the warehouse manager signs to proceed to the next level.
Brazing
Syndent joins tungsten carbide and steel together through a process called brazing. We apply the brazing at moderately low temperatures using silver material.
Our silver brazing forms a very uniform and strong bond resistant to crack or bend.
Balancing
Syndent then carries out the balancing of our ideal pencil grinder bits. We jump to test the tool for a possible 0.05mm or lower than that.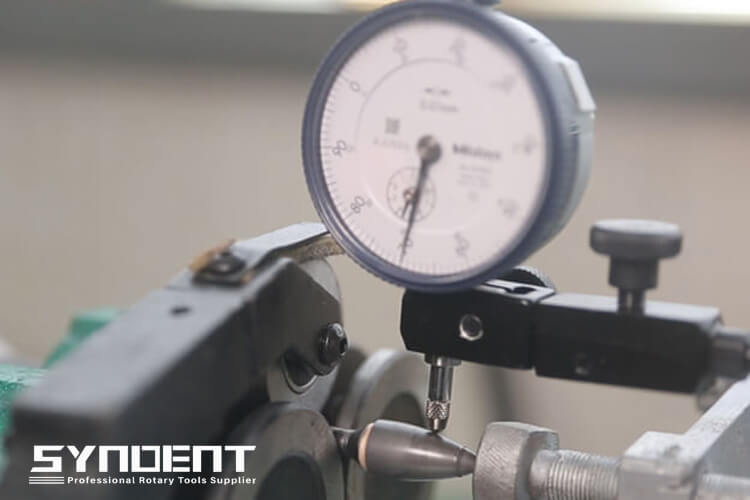 The perfect tolerance level of the pencil grinder bits enables you to have the best precision when doing your projects.
Syndent CNC equipment guarantees the perfect tolerance level of pencil grinder bits.
Bending
Syndent measures pencil grinder bits strength by bending. We apply a predetermined degree of bending on the shank and its brazing place.
This ensures the pencil grinder bits have enough strength to handle any tooling requirements.
Shaping
Syndent then shapes the pencil grinder bits uniformly via our advanced CNC machine. This gives an attractive form to the tool, identical to others.
Toothing
At this stage, Syndent gives pencil grinder bits cutting edges popularly referred to as flutes. We have single and double flutes, important in any industrial application. Therefore Syndent creates uniform flutes by grinding the head through a CNC machine.
Polishing
Towards the end of our production process, Syndent puts a smooth finish to the pencil grinder bits. We polish the entire shaft including its brazing place, removing contours.
Packaging
We end the production of pencil grinder bits with packaging.
Before this, the pencil grinder bits have to comply with the relevant quality standard, ensuring guaranteed quality to customers.
We then create your logo, sticking appropriate labels to your order, and then make shipping arrangements.
Which Power Tools Do Pencil Grinder Bits Fit On Well?
Pencil grinder bits can pair well with any standard power tool, mostly die grinders. Die grinder machine usually has perfect pairing with Syndent pencil grinder bits.
However, our pencil grinder bits can work flawlessly with other rotary tools. This include:
Dremel
Micro motors
High-speed engravers
Micro motors
Pneumatic rotary tools
Drills
Flexible rotary shafts
How do You Use Pencil Grinder Bits on Die Grinder Machine?
Before you use any rotary tool, ensure to inspect it for any possible damage. This can allow you to work fluently to avoid any unfortunate incident.
Runs at very high speeds so you need proper protective gear when operating this tool with the pencil grinder bits.
Check the rotation of the tool by plugging on power or using an airline. Squeeze the throttle so that you have an idea of how it runs before even fitting the pencil grinder bits.
Then pick up the correct pencil grinder bits you wish to use and mount them securely in the collet.
First, tighten by your hand and then use the supplied or appropriate range to further tighten it up.
Now you can make cuts, deburr metal, grind, shape, sharpen, mill, drill, etc.
Why Choose Pencil Grinder Bits?
Pencil grinder bits have very many useful applications in the industry. Like the rest of the other cutting tools, Syndent manufactures, our pencil grinder bits has reasonable versatility.
Our quality tool can give you light applications on lots of different materials. You can wonderfully apply on ceramic tiles, aluminum, book board, glass, mirror, steel and more.
You can sensationally use Syndent grinder bits to polish, sharpen, grind, clean, cut, carve, engrave, etc.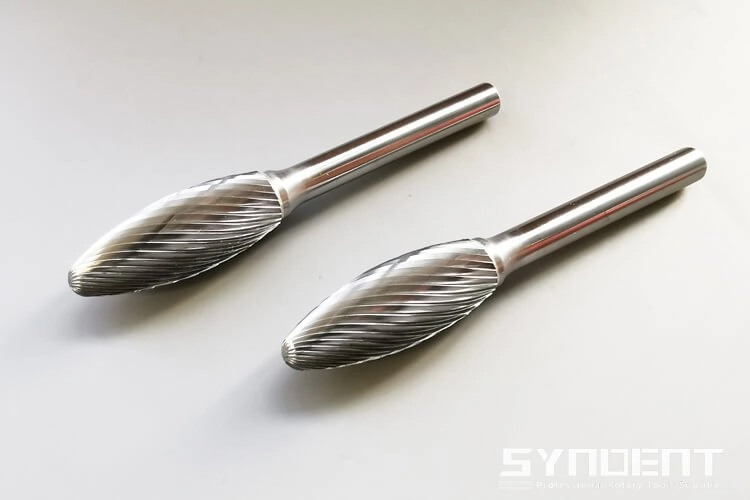 Syndent machines quality pencil grinder bits from a quality and dense tungsten carbide and steel raw materials.
We apply an extensive and strict development process using the latest fabrication technology and advanced CNC machine.
Based on this, Syndent pencil grinder bits only promise precision in cutting. Again, the ideal grinder bits have sturdy cut with remarkable results on your project.
Many industries use pencil grinder bits for light duties, the tasks the tool can perfectly handle.
Syndent carries out frequent checks on the CNC machine that provides quality pencil grinder bits.
Therefore, from a keen selection of quality tungsten steel, we produce pencil grinder bits with sturdy, sharp, and lasting performance.
The quality pencil grinder bits can produce correct dimensions when you cut materials, grind, shape, drill, mill, sharpen, etc.
Because we use quality grade material, the pencil grinder bits guarantee increased speed with low friction.
Again, tungsten carbide has high resistant to heat and corrosion with sharp cutting action. Thus, besides lasting cut, the pencil grinder bits cut sharply and accurately.
Has better qualities than pencil grinder bits made from high-speed steel.
Our development line features coarseness that can suitably fit your workpiece requirements. This fits an industry that handles more than just a single task on a list of several workpieces.
This includes fine, medium, coarse, and extra-coarse which we supply according to order requests.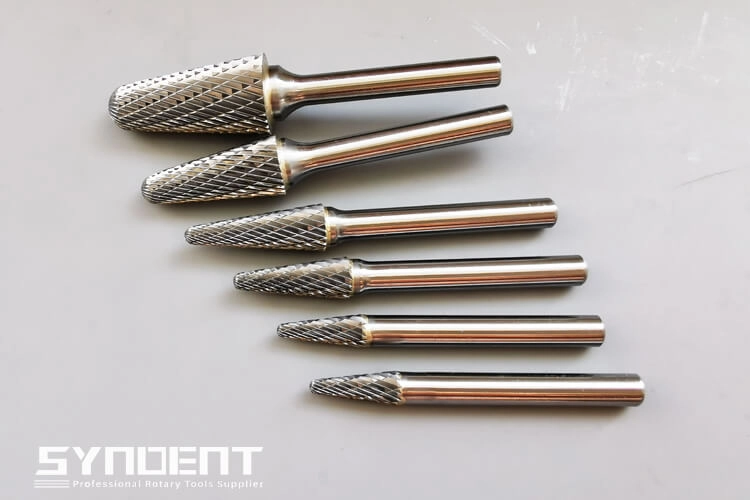 Syndent pencil grinder bits feature quality sizes, shapes, and flute types. An appropriate selection promises quality performance on all metal and non-metal.
As a result of these features, you have lots of conveniences in doing your highly demanding jobs.
If you have varied functions you need to carry out on materials, pencil grinder bits can serve you better.
Can You Have Pencil Grinder Bits in Sets?
Absolutely.
Syndent professionally builds pencil grinder bits in the most appropriate and useful sets for convenient applications.
You can order Syndent die grinder bits from us and have faster delivery. Syndent can deliver pencil grinder bits in sets according to your needs.
Whether you want a long shank, particular flute styles or desired shapes. We always can make customization to meet your demands.
Syndent pencil grinder bits come in sets of 10 Pcs, 8 Pcs, 9 Pcs, 5 Pcs, 4 Pcs, and more. With a pencil bit set, you can do specific jobs conveniently and faster.
This includes grinding, cutting, engraving, sharpening, milling, drilling, carving, engraving, etc.
The efficiency comes because of improved geometry. Meaning Syndent pencil grinder bits don't overheat as a result of clogging.
What is Tungsten Carbide?
Tungsten carbide refers to the equal measurement of tungsten with carbon that forms a high-density cutting tool.
It has a natural light gray appearance with bits of a bluish tinge. Tungsten carbide melts without decomposing at 2,000 degrees Celcius.
That means you can comfortably derive shapes from it through a process called sintering by forming or sintering.
Is Tungsten Harder Than Diamond?
Not really.
So far, the diamond appears harder than any other metal we know of. It has extreme hardness and superior strength to perform strongly on all types of materials.
Pencil grinder bits made from diamond have quality cut but with a rough effect on the material surface. Industries that don't necessarily need smooth material surface can deeply rely on tools made from diamond.
Tungsten carbide is next to diamond in hardness and strength. Thus, you have powerful and durable sharp grinding confidence when handling materials of different nature.
They have strong cutting action, similar to diamond. However, tungsten carbide pencil grinder bits have a better finish in terms of smoothness than diamond.
Diamond pencil grinder bits give a stunning impact strength when applied to the material. Tungsten provides remarkable tensile strength and has a higher melting point.
The nature of your job can determine the type of pencil grinder bits to use.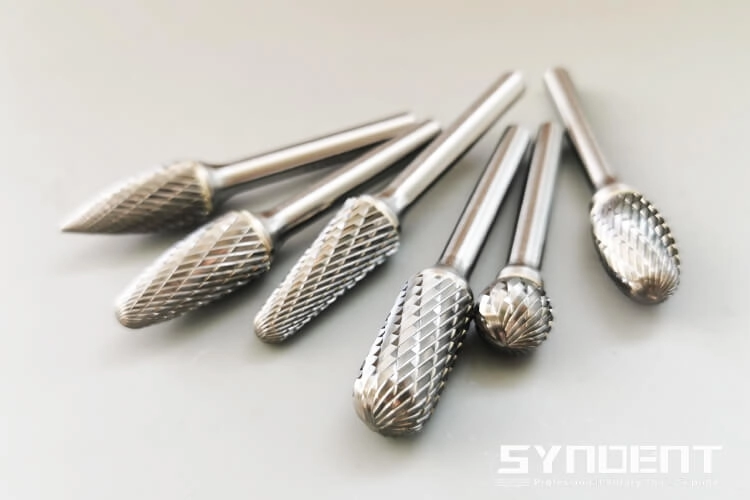 Can You Do Different Tasks on Wood With Pencil Grinder Bits?
True.
Pencil grinder bits appear as small-sized cutting tools, shaped in a design of a pen. They provide easy use.
Pen-shaped design offers enough stability, meaning you can operate with just a single hand when cutting wood or other materials.
Built with high rotation ability, Syndent pencil grinder bits easily adapt to great speed precision. You can easily machine wood into different shapes and sizes.
Reduced vibration, low heat formation, and highly reduced clogging of flutes guarantee long operation. Wood has a lot of moisture content which sometimes causes easy clogging of the grinder bits.
But, with a sturdy tool built with special flutes like die grinder bits for wood. This can easily carve, drill or even engrave your wood. Comes designed with very unique sharp cutting edges.
Can You Easily Drill Ceramic Tyles Using Pencil Grinder Bits?
Most definitely.
Syndent pencil grinder bits have precisely engineered blades for a durable and safe cutting effect.
Syndent makes safe and sturdy grinder tips built with speed for accurate work performance on materials like ceramic tiles.
Ceramic tiles need a lot of care when cutting and a perfect tool to cut or drill through.
Syndent pencil grinder bits have maximum stability and strength. Together with extremely sharp blades and fast cutting action, you can conveniently apply when cutting ceramic tiles.
Can Pencil Grinder Bits Carve or Engrave Stone?
Yes.
Using Syndent pencil grinder bits, you can quickly shape, grind, mill, drill, carve or engrave stone.
Stones come in different varieties in terms of hardness, some hard while others a bit soft. Furthermore, the stone is certainly compact, hence requires a lot of skill and patience.
With sharp and strong pencil grinder bits, you can do lighter jobs on stone.
However, with die grinder stone bits, you have the freedom of doing any type of task. You don't limit yourself to the extent you can go.
With much confidence, you can carve and engrave soapstone, sandstone, alabaster, marble, travertine, and more.
With die grinder stone, you can even grind granite, the hardest of all other stones.
Do Pencil Grinder Bits have Perfect Performance on Steel?
Absolutely.
Pencil grinder bits can perfectly cut, engrave, carve, shape, machine, chamfer, and drill through steel easily.
Tungsten carbide is quite hard and highly dense. Allows effortless cutting of steel and other materials like cast iron, stainless steel, etc.
Syndent pencil grinder bits have uniformly completed sharp flutes that come in the most popular identical cuts.
You can hugely acquire professional results on steel with quality pencil grinder bits. For heavy tasks on steel, you need the die grinder bits for steel which gives an advanced performance.
Can Pencil Grinder Bits Flawlessly Cut Stainless Steel?
Yes.
Syndent designs pencil grinder bits or cutting but also can grind, shape, mill, drill, chamfer, engrave, etc.
It provides fine applications on stainless steel, copper, zinc, aluminum, platinum, brass, cast iron, plastics, wood, and more.
Using single cut pencil grinder bits finely cuts stainless steel with a lot of comforts. Aggressively removes a great amount of stock, clears sharp and rough edges, and sharpens stainless steel accordingly.
When doing lighter tasks, Syndent pencil grinder bits give desired performance. However, die grinder bits for stainless steel can increase performance especially with demanding jobs.
Can You Use Pencil Grinder Bits in Cutting Glass?
Without a doubt, Syndent pencil grinder bits can shape, cut, grind, polish or remove sharp edges on glass or mirror.
Glass can easily shatter when you try cutting with any other tool because of the slippery nature and hardness.
Syndent die grinder bits have better quality. This can make light tasks on glass and mirror quite easy and precise.
If you intend to do detailed tasks when dealing with your project on glass, use fiberglass router bit.
Syndent makes the ideal tool with extraordinary geometry and an abundance of quality features.
Whether your project demands shaping, cutting, grinding, or drilling, fiberglass router bit can rise to the tasks.
Useful note: You can smoothly cut glass or mirror with pencil grinder bits or any other tool before tempering. Applying pencil grinder bits on tempered glass tend to shatter on impact.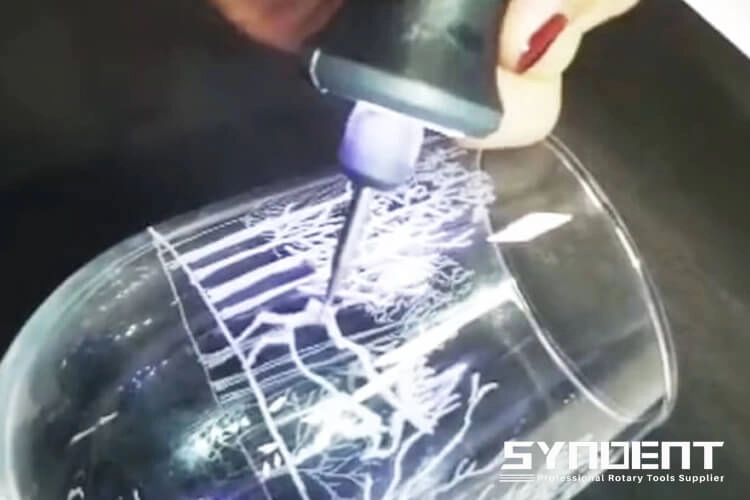 Can Pencil Grinder Bits Shape Bones?
True.
The hospital industry uses pencil grinder bits in theatre operations to cut bones when rectifying certain back conditions.
You can drill through bones precisely, shape, cut, or grind bone and tissue. Also, dentists use Syndent pencil grinder bits in drilling through teeth to prepare cavities for refiling procedures.
Designed in a shape of a pen, pencil grinder bits with long shanks can reach difficult-to-reach areas. You can nicely prepare bone or teeth with great precision.
Syndent pencil grinder bits feature the newest USA-based welding technology to make quality pencil grinder bits.
Our pencil grinder bits have built-in strong, sharp flutes to smartly cut through tissue and bone.
Other industries make attractive shapes or designs from the bone using pencil grinder bits because of stability and precision.
Which Industries Have Adopted the Use of Pencil Grinder Bits?
Many industries worldwide have adopted the use of pencil grinder bits. They include:
Aerospace
Steel machinery
Railway
Laboratories
Hospitals
Automobile
Metalsmith
Do Pencil Grinder Bits Come in Different Flute Styles?
Syndent designs pencil grinder bits in two popular cuts: aluminum (single Cut) and double-cut.
Aluminum Cut
The aluminum usually has single spiral flues which appear on the head and in the right-hand direction.
With the single cut, Syndent pencil grinder bits cut through different metals like aluminum, soft steel, zinc, zirconia, etc.
This also applies to materials like plastics, stone, wood, ceramic tiles, book board, mirror, and more.
With aluminum single cut, you can create drills spherical shape and enlarge holes with ball-shaped.
Double-Cut
Double cut pencil grinder bits, sometimes termed as cross-cut. Have the extra left flute that uniformly intersects with the right flute to form two cuts.
Double cut provides a very powerful cut, smooth results on the material surface and better than the single cut.
Aggressively removes heavy stoke on materials including hardened steel, alloy steel, and more.
The double-cut pencil grinder flutes appear uniformly on its head. This provides a unique cutting on specified materials with a minimized pulling action.
Therefore you have great control of the tool in whichever circumstances or regardless of materials applied. Double cut produces quality smaller chips, ideal for smoothening or polishing.
Which Shapes Do You Find Pencil Grinder Bits?
Syndent pencil grinder bits comprised of the following quality shapes:
Cylinder pencil grinder
Use the cylinder type in contour finishing your project and flat surface removal.
Cylinder End Cut
Suitable pencil grinder bits that remove contours as well as right-angled corners.
Cylinder Radius End
Used in processing contours and for arc surfacing at a particular angle.
Ball-shaped
Great ideal grinder bits applied on materials for perfect machining of round edges and preparation for brazing.
Oval-Shaped
Used for removing round edges.
Tree pointed
Perfect in grinding round edges through long- narrow, long positions.
Tree Radius End
Applied in machining the round arc contours in long, narrow areas.
Flame-Shaped
Used in machining round edges.
Cone-Shaped
Works the same as a countersink and perfect for chamfering the inner hole.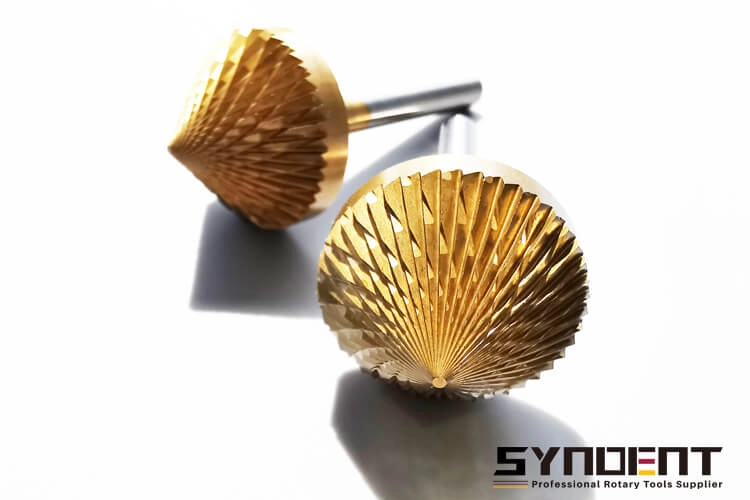 Taper Radius End
Broadly applied in perfectly removing round contours in long, narrow positions. Also, good for surface machining.
Taper Pointed End
Suitable for removing burrs in long, narrow places and for counter surface machining.
Inverted cone
Used in chamfering the rear side of material from inside.
Do Pencil Grinder Bits Appear in Specific Sizes?
Yes.
You can increase or reduce the speed of the pencil grinder bits regarding the material you work on.
Materials have different hardness, therefore, you can operate based on material hardness. Also, contours to make can greatly detect the speed you can use.
Maximum speed should not exceed 35,000 RPM.
| | | |
| --- | --- | --- |
| No | Burr Size | RPM |
| 1 | 2.4mm | 17,000 – 26,000 |
| 2 | 3.0mm | 17,000 – 26,000 |
| 3 | 6.0mm | 11,000 – 16,5000 |
| 4 | 13.0mm | 8,000 – 12,000 |
| 5 | 16.0mm | 7,650 – 11,500 |

Do Pencil Grinder Bits Have Warranty
Syndent pencil grinder bits come with a warranty as a guarantee for our quality tools.
Syndent uniquely designed from denser carbide steel can promise better and lasting results with pencil grinder bits.
The lifetime warranty acts as the customer security that in case our product doesn't meet your expectation, we can replace.
To positively respond to your requests accordingly, Syndent manufactures several other tools. These include dental carbide burs, carbide nail drill bits, diamond nail drill bits, etc.
For instant quotes of pencil grinder bits, talk to us for us to serve you immediately.